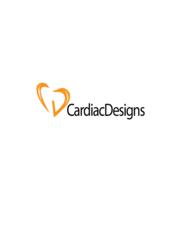 Park City, UT (PRWEB) May 08, 2013
Cardiac Designs announced today that its ECG Check mobile heart monitor and analysis engine for iPhone 4S/5 is now available to enable patients to record their heart rhythm anytime, anywhere and have it automatically analyzed for arrhythmias. The ECG Check, which makes cardiac rhythm analysis quick and easy, is the first FDA-cleared Over The Counter ECG monitor that is compatible with iPhone 4S and 5. The device will be demonstrated at Booth #2227 at the Heart Rhythm 2013 show May 8 through May 10 in Denver.
The convenient and portable Cardiac Designs ECG Check, is enhancing the way people's heart rhythms are screened and monitored. It's as easy as placing one's fingers on the sensors and relaxing; there are no electrodes or special devices needed. Because it wraps conveniently around the iPhone, the ECG Check monitor remains with the user at all times and ensures availability whenever and wherever the need arises. ECG readings are instantly displayed on the iPhone screen, stored on the iPhone, transmitted to and analyzed by the ECG Check Web Center, and results are returned in seconds. The Heart Monitor is available for purchase by medical professionals and by consumers for $99 at http://www.ecgcheck.com.
"The consumer is now center stage, he/she will drive this new medicine." said Dr. Eric Topol, Chief Academic Officer at Scripps Health, "It is the consumer's data, the consumer's smartphone, and the consumer's choice of who, when and how to share." Dr. Topol has independently tested and reviewed the ECG Check device, but is not affiliated with Cardiac Designs.
Analysis of the device, by key physicians across the US, indicate that the ECG Check can be used rapidly and simply to determine abnormalities in the recorded heart rhythm using an iPhone and the ECG Check system. This provides fast and accurate detection of arrhythmias, including Atrial Fibrillation. Atrial fibrillation is one of the most common arrhythmias and carries a five-fold risk of stroke.
"The ability for consumers to have access to this type of diagnostic tool is key to helping people take more control of their heart health and to collaborate with their care team, wherever they are and whenever they want," said Karim Marrouche, President and co-founder of Cardiac Design.
The ECG Check monitor attaches to the back of an iPhone 4S or 5, like a protective case, to record, store, transfer, and analyze single-channel electrocardiograms (ECG) wirelessly through ECG Check app (available for free in the iTunes App Store) and the ECG Check Web Center. Bluetooth pairing between the iPhone and ECG Check is automatic and requires no additional intervention of the user. Recordings are always available within the app and on the ECG Check Web Center for sharing with the user's care team.
-----
Cardiac Designs, a privately held company headquartered in Park City, UT, is a leading provider of personal cardiac monitoring products and services that improve the flexibility, speed and accuracy of arrhythmia diagnosis. With locations in Shenzen, China and Round Rock, TX, Cardiac Designs will serve users and their care teams with innovative and disruptive low-cost high quality ECG products and services.
For more information, please visit ECGCheck.com.
iPhone® is a trademark of Apple Inc., registered in the U.S. and other countries.
Contacts
Cardiac Designs, Karim Marrouche, 512-582-2453,
karim(at)cardiacdesigns(dot)com