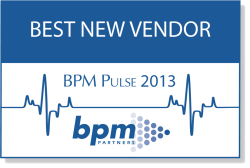 Vena Solutions leverages your investments in Microsoft Excel® spreadsheets and models, ties them to a central database and takes the chaos out of the equation
Toronto, ON (PRWEB) May 08, 2013
Vena Solutions, an innovative provider of performance management software for mission-critical finance and accounting processes, was named Best New Vendor in the BPM Partners Pulse of Performance Management Survey and Market Analysis.
This impartial finding by BPM Partners, the leading independent authority on business performance management (BPM) solutions, was conducted through a customer satisfaction survey from hundreds of finance and accounting users across all industries. The selection of Best New Vendor is also based on research of industry trends, and end-user feedback on innovative vendors.
In the annual briefing, Craig Schiff, CEO of BPM Partners, recognized Vena Solutions for their innovative approach to performance management. As stated by Schiff, "Vena Solutions leverages your investments in Microsoft Excel® spreadsheets and models, ties them to a central database and takes the chaos out of the equation". Schiff went on to explain how Vena's other features, including a "very powerful workflow capability and a beautiful process designer, detailed audit trails, and version comparisons", help customers manage and control finance processes.
Schiff points out that Vena Solutions' ability to extend beyond standard performance management offerings into tax accounting, treasury management, project planning and other areas is an ideal fit for mid-sized to large organizations that are seeking a comprehensive solution that leverages the investments that have already been made in Excel.
"As noted in the BPM Partners survey, nearly 80% of performance management users still use Excel regardless of the systems they have in place. This continued use of Excel makes Vena's approach ideal for organizations," said Rishi Grover, Vena Solutions' president.
"The Vena Solutions' executive team and staff have a rich history of helping clients solve their most critical business performance challenges. This recognition is an exciting accomplishment and a testament to our commitment to customer satisfaction and product innovation," added Don Mal, Vena Solutions' CEO.
ABOUT VENA SOLUTIONS:
Vena Solutions delivers the most flexible performance management solution available for budgeting, forecasting, planning, reporting, analytics, and other mission-critical finance and accounting processes to large and mid-market companies around the world. Vena's unified web-based software platform embraces all the power and flexibility of Microsoft Excel® yet provides powerful workflow management, control and reporting capabilities. This unique approach is complemented by a dedicated consulting, advisory and training team. The result is fast time to benefit, lower cost of ownership, and a solution that is easily managed by clients. For more information, visit http://venasolutions.com.
ABOUT BPM PARTNERS:
BPM Partners is the leading independent authority on business performance management (BPM) and business intelligence solutions. The company helps organizations address their budgeting, planning, financial reporting, regulatory compliance, profitability optimization, key performance indicator (KPI) development, and operational performance challenges with vendor-neutral experts who can guide companies through their BPM initiatives from start to finish while both reducing risk and minimizing costs. Visit http://www.bpmpartners.com.