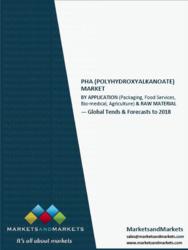 "Companies trying to produce PHA in the near future are opting to increase the performance of their products through investments in R&D."
Rockville, MD (PRWEB) May 07, 2013
Rising demand of biodegradable materials, positive attitude of governments towards green procurement policies, and rising oil prices are attracting companies to invest in PHA (Polyhydroxyalkanoate) market. Many large companies such as Meredian (U.S.), Ecomann (China), and Bio-on (Italy) are focusing on increasing production capacities.
Large number of companies, particularly small and middle-sized ones, initiated the experimental and industrialized manufacturing of all types of PHAs. PHA can be produced using various renewable raw materials. Currently, majority of PHA is produced using plant sugar, which can be easily obtained from sugarcane, corn sugar, and sugar beet, making it an ideal raw material for PHA. Considerable amount of PHA is also produced using plant or vegetable oils such as soybean oil, palm oil, and corn oil. Waste lipids and milk whey are the other raw materials at experimental stage and can be commercialized soon.
Although the existing PHA plant capacities are underutilized at present, the companies are still planning for further capacity expansions. Analyzing the wide range of possible applications and upcoming trends of biodegradable plastics, companies are expecting significant growth in PHA demand in the near future. Currently, high prices and performance issues are the two major restraints for PHA market. Generally, the cost of production of biodegradable plastics such as PHA is 20% to 80% higher than the conventional plastics. This is primarily due to the high polymerization cost of biodegradable plastics as most of the processes are still in the developmental stage. PHA is at its initial stage of technology cycle and not yet achieved economies of scale. The market is at a stage where there is high capacity but low consumption. Most of the players are into research and development for increasing the performance of their produced PHA.
In the future, with an increase in production, the prices will come down. Companies trying to produce PHA in the near future are opting to increase the performance of their products through investments in R&D. This is to ensure that the new products developed are more distinguished and revolutionary in terms of features than the ones already available. Lower prices and improved performance of PHA will boost its demand in future.
For more information, visit
http://www.marketresearch.com/land/product.asp?productid=7553917&progid=85418
Follow us on Facebook http://www.facebook.com/marketresearchdotcom
Follow us on Twitter http://www.twitter.com/marketresearch_
About MarketsandMarkets
The MarketsandMarkets edge: Worldwide, market research reports are primarily sold for numbers, market segmentation and competitive landscape, within the business leaders.
The analyst working with MarketsandMarkets come from the renowned publishing houses and market research firms globally adding their expertise and domain understanding. We get the facts from over 22,000 news and information sources, a database of hundred thousands of key industry participants and draw on our relationship with more than 900 market research companies globally.
The success of our clients speaks for our success. In course of our ongoing relationship with research partners for over a period of three years, our clients have discovered that we can not only head-start any given research project immediately but also execute it in a stipulated time frame. We always prioritize our commitments of confidentiality. The fact that a high percentage of our business comes from client referrals bears ample testimony to the quality of our market research reports.
About MarketResearch.com
MarketResearch.com is the leading provider of global market intelligence products and services. With research reports from more than 720 top consulting and advisory firms, MarketResearch.com offers instant online access to the world's most extensive database of expert insights on global industries, companies, products, and trends. Moreover, MarketResearch.com's Research Specialists have in-depth knowledge of the publishers and the various types of reports in their respective industries and are ready to provide research assistance. For more information, call Cindy Frei at 240.747.3014 or visit http://www.marketresearch.com