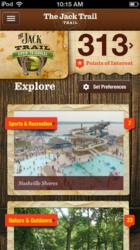 This project has elevated the overall Discover Tennessee Trails & Byways program by providing accessible information where it matters most – on your phone.
Nashville, TN (PRWEB) May 08, 2013
Free individual, interactive iPhone apps for the Nashville's Trace, Old Tennessee and The Jack Trails, all trails in the Discover Tennessee Trails & Byways initiative, are now available for download on iTunes or by visiting tnvacation.com/apps.
The app project, a collaboration between app developer Designsensory, the Tennessee Department of Tourist Development and trail committees made up of tourism entities on each trail, began in 2012 and has set the standard for the development of future trail apps.
"We believe in strong partnerships, especially with our department of tourism," said Deborah Warnick, director of cultural & heritage tourism for the Williamson County Convention & Visitors Bureau. "This project has elevated the overall Discover Tennessee Trails & Byways program by providing accessible information where it matters most – on your phone."
Each app is designed to enrich the experience for travelers on the individual trails. Each trail offers unique experiences designed to showcases tourism's major sites, as well as off-the-beaten-path attractions, which are some of Tennessee's greatest assets.
An educational component was created to help build awareness about the apps. A creative video shows how travelers can interact with the app while on their journey through Tennessee. Due to the vast functionality of the app, each user will have a unique experience, which is highlighted in the video tutorial.
The Nashville's Trace app takes the traveler on a delightful road trip through charming Tennessee towns linked together by the history and scenery of the Natchez Trace Parkway. They can explore all that downtown Nashville has to offer, but it doesn't let the experience end there. App users will discover the hidden gems that surround Nashville and the Natchez Trace Parkway.
The Old Tennessee Trail app explores scenic drives through settlers' homesteads, rolling farmlands and historic sites with this easy-to-use, interactive guide. Get out of the city and explore the charming towns that surround Franklin.
The Jack Trail app guides the traveler through downtown Nashville, middle Tennessee's rolling countryside, and into the local treasures that lie just off the beaten path. The app allows the user to saddle up and explore the horses, distilleries, history and music along The Jack Trail that give Tennessee its reputation.
The iOS 5.0 platform-enabled apps equip travelers with a fully customized trail experience, allow them to find specific points of interest and share their journey with friends.
Additional features include:

View points of interest as a list, tiles or in a map format
"Favorite" points of interest to create a custom trail itinerary
Share points of interest on Facebook, check in to points of interest or upload a photo
View points of interest by category and see how many points of interest are included in each category
Filter points of interest by interest category including "What's Nearby," "Food & Wine," Nature & Outdoors," "Attractions, Sports & Rec," "Civil War," "History & Heritage," "Agritourism" or "Music & Arts"
View "Did You Knows?" along the trail for interesting facts about the trail's points of interest
Click on a point of interest to read a full description, view photos and find contact information
Find events along the trail throughout the year
Click on the trail playlist to enjoy trail-related tunes
The Tennessee Department of Tourist Development's goal moving forward is to develop apps for all 16 trails in The Discover Tennessee Trails & Byways program.
For more information on the Discover Tennessee Trails & Byways, visit tntrailsandbyways.com.
To find your next vacation sweet spot, explore tnvacation.com and join other Tennessee travelers following us on Facebook, Twitter, Pinterest, Instagram and YouTube (/tnvacation).
###