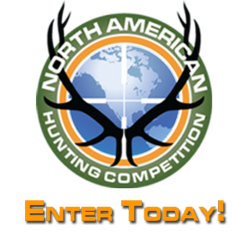 "Video competitions are not a new concept, but North American Hunting Competition is taking it to a new and more exciting level! It is growing in popularity every month and it is for everyone," NAHC Co-Founder Dave Seida
Sherwood, OR (PRWEB) May 09, 2013
Have an amazing hunting or wildlife video? We have the perfect opportunity!
It is still very early in the North American Hunting Competition's video contest but well over five thousand votes have already been cast. The competition runs thru December 31, 2013 and all video submissions will be featured for at least six months at northamericanhuntingcompetition.com until winners are decided.
Videos have been submitted from around the globe covering everything from trout fishing to hunting in Australia and several hunting guides have signed up and are using the contest as a platform to promote their businesses. The contest entry fee is $10 and cash prizes will be awarded to the top three winners in each contest and all who compete are automatically entered to win a free guided elk hunt with High Lonesome Hunts, hunting gear and more.
Contest co-founder Dave Seida said, "Video competitions are not a new concept, but North American Hunting Competition is taking it to a new and more exciting level! It is growing in popularity every month and it is for everyone," Seida said. "This is the most affordable advertising available reaching markets all around the world for only ten bucks!"
To enter and submit a video, go to http://www.northamericanhuntingcompetition.com and click on 'enter video competition' on the main page. Enter your basic information and select video competition. The website will ask for payment through authorize.net which is a very secure site. Entrants will then be instructed on how to embed their video from YouTube or Vimeo.
For more information on the North American Hunting Competition or to sponsor go to NorthAmericanHuntingCompetion.com and view our video at http://youtu.be/veHExclRpzg.
About North American Hunting Competition LLC:
The North American Hunting Competition is the largest hunting competition in North America. Our company is different from other hunting websites because our customers provide the content. Their hunting videos and trophies create engaging content that encourage repeat website visits and consistent site interaction. We provide the foundation for the competition and their hunting, photography and videographer skills supply the excitement.