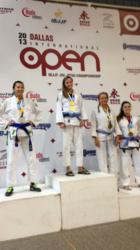 "She did not let obstacles stand in way of her goal....at any cost and even though her planning was horrific...her craziness was impressive and inspiring."

- Roberto Torralbas
Naples, FL (PRWEB) May 07, 2013
Team Third Law's Rachel Ranshau traveled alone to Dallas last weekend and picked up her second international gold medal in Dallas, winning her blue belt featherweight division.
It was a victory that almost didn't happen, because up until the day before her flight left, Ranshau's coaches weren't sure she'd be able to go. The tournament's registration closed early, and Ranshau, who is 17 years old, was the only competitor from the Naples BJJ school who managed to get her name on the registration list before it was shut down.
When her coaches realized the problem, a few phone calls confirmed what everyone feared: No hotel will let a 17 year old check into a room. Though Ranshau was determined to go even if it meant sleeping in the airport like a bum, her coaches -- and her mother -- would not allow it.
Thankfully, Nyjah Easton and Sijara Eubanks -- two fellow Team Lloyd Irvin teammates from Maryland -- saved the day, offering the homeless teenager from Florida a spot in their hotel room.
Ranshau won three fights for her gold medal in the blue belt featherweight division. She won her first on points, her second by kimura from side control and her third on points. In the absolute she won her first match, but lost in the second round.
"I am very proud of Rachel," said Roberto Torralbas, her coach and head instructor of Team Third Law Brazilian Jiu Jitsu and Muay Thai Kickboxing. "She was willing to do some crazy stuff...that I completely would not have allowed...and had to figure out last minute way to get her safely there. She did not let obstacles stand in way of her goal....at any cost and even though her planning was horrific...her craziness was impressive and inspiring."
Overall, it was a great weekend for all three ladies representing Team Lloyd Irvin, with Easton, a black belt, and Eubanks, a brown belt, both winning gold in their divisions as well. The Dallas International Open was Ranshau's second international gold in 2013 at blue belt, she also recently won the Boston International Open. Now, Ranshau and her teammates are back to training hard to prepare for the World Championships in Long Beach, CA in just a few weeks.
For more information about Team Third Law's teens Brazilian jiu jitsu programs, or BJJ or Muay Thai programs for kids or adults, visit http://www.TeamThirdLaw.com .
Team Third Law offers a 30 day free trial, call 239628-3LAW (3529) to get started with your free orientation class.