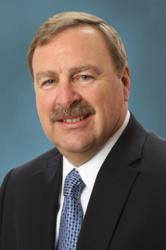 Today's connected consumer expects a higher level of information in the store to complement what is available online.
Van Nuys, California (PRWEB) May 08, 2013
IEE, Inc., renowned for its innovative, cutting-edge display technologies, has hired industry veteran Mike O'Connor as the director of retail sales. With more than two decades of various retail hardware and software experience, O'Connor is poised to lead IEE's retail POS display division in developing consumer-focused display technologies that will enhance the user's experience.
Thomas Winfrey, president of IEE, noted, "Today's connected consumer expects a higher level of information in the store to complement what is available online. This opens up a new set of business challenges for brick-and-mortar locations, including employee competency, infrastructure requirements and integrated data access. Mike will play a key role in making sure our retail displays not only add to the customer's experience, but streamline processes for the retail location as well."
O'Connor said, "By combining IEE's advanced display technologies with the latest in omni-channel support, we are building a series of powerful displays, price verification terminals and customer interactive kiosks that will help balance the retail industry's challenge of serving customers effectively with a finite staff onsite. By taking a solutions-based approach, we're able to offer POS units and kiosks that add significant value in terms of customer loyalty, multifaceted marketing opportunities and personalized choices for the end user."
O'Connor has worked in virtually all capacities related to retail display technologies, from customer relations and business development to product marketing, partner management and contract negotiations.
Most recently, he served as product sales specialist with Hewlett Packard's retail division, where he supported HP partners and their customers on needs analysis, solution development and sales and marketing strategies. He also helped recruit key retail VAR (value added reseller), ISV (independent software vendor) and OEM (original equipment manufacturer) partners and managed those relationships.
O'Connor also served as a solution sales specialist for NCR Corporation where he managed and developed store automation solutions to Tier I and Tier II national clients. As director of major accounts for PAR Tech, he expanded the company's market penetration across a 13-state region.
He has worked in the related hospitality and financial services industries, building and managing internal and external sales teams as well as overseeing product development and go-to-market strategies.
O'Connor holds a BS in Business Administration from California State Polytechnic University and has completed the Holden Strategic Selling Program, an authority in sales training and consulting.
For more information call 800-422-0867, visit http://www.ieeinc.com/pos-displays or e-mail mail(at)ieeinc(dot)com.
For high res download and full text:
http://www.simongroup.com/PressRoom/press-release.php?Job=IEE-A-17088
Subscribe to IEE's RSS feed: http://feeds.feedburner.com/simongroup/iee
UPCOMING TRADESHOW: RSPA RetailNOW; Booth #130; August 4-7, 2013; Las Vegas, NV
About IEE:
IEE's legacy began in 1946 with the development and manufacture of cutting-edge defense displays for the United States military. Building on the proven, rugged display technologies for which it is renowned, IEE also develops reliable, durable and cost-effective displays for the retail and industrial environments.
IEE provides the most advanced retail displays, from customer pole displays available with the largest number of languages and emulation modes for flexible implementation, to full-featured POS scanners that go beyond simple price verification to provide an interactive in-store customer experience.
The company is also forging the path for 3D imaging in retail displays and is constantly evolving its sunlight-readable, touch-screen outdoor kiosks that come in screen sizes up to 19". All design, development and manufacturing are housed in IEE's Van Nuys, Calif. headquarters.