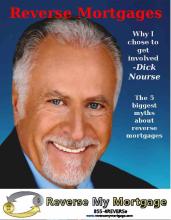 The philosophy used by our staff is to always help seniors achieve more financial success in life. After all, this is what the HECM program was designed to accomplish.
Salt Lake City, Utah (PRWEB) May 07, 2013
Many seniors in the market today are wary of the sometimes unpredictable home equity conversion mortgage or HECM market.
Since the institution of HECM loans, many Americans who are over age 62 have been mistrustful of brokers and individuals who claim to have their best interests in mind. For this reason, RMM has decided to add another leg to its reverse mortgage calculator. By providing homeowners with a simple chart of possible decisions and how those decisions may impact their future, this helps to provide a level of clarity in the decision making process. RMM plans to pilot this program for those wanting a reverse mortgage in Utah.
By the book, but what if the book is always changing?
Another issue that homeowners had complained about is that HECM loans can be honest people, but at times, incompetent with regards to new rules and regulations. One major goal for RMM during the spring is to improve upon its reverse mortgage calculator to ensure better compliance all around. This may be a bit more frustrating to consumers, as the level of checks and balances increases. "I never want to support a model where citizens feel they cannot trust the person quoting their loan and providing analysis of their benefits. With Social Security, Medicaid, and other Government controlled programs, you simply can't throw a deal against the wall and hope that it sticks," said Mark Schow, Reverse Mortgage Utah broker.
The new flow chart for making coherent, informed decisions:
Everyone considering going forward with this program should be cautious of a reverse mortgage calculator that promises too much in the beginning and delivers nothing in the end. While RMM can help to advise seniors on potential benefits and drawbacks of decisions made when they wish to start drawing their benefits from HECM loans, they still need assistance to see the potential end results. That being the case, RMM has prepped a new flow chart for its clients who want to see how each decision will impact them over the long-term. This new decision flow chart will also be piloted for those seeking a reverse mortgage in Utah and should move quickly into the Texas market and other areas around the country. This should help to provide clarity for the entire process.
Seniors who want a breakdown of their benefits and how a HECM loan will affect their other Government benefits will soon have some informative resources from RMM.
For more information, please visit: http://www.mortgagereversecalculator.com