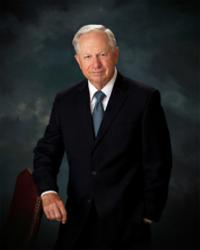 Dallas, TX (PRWEB) May 07, 2013
GridFirst is proud to announce Mr. Glenn English appointment as part of its Board of Advisors. Mr. English served 10 terms in the U.S. Congress representing Oklahoma's 6th district. He served on the House Agriculture Committee and as chairman of the House Agriculture Subcommittee on Conservation, Credit, and Rural Development beginning in 1989. As chairman, Mr. English worked directly on legislation affecting rural development programs, including rural electrification and telecommunications, and pursued an aggressive agenda to revitalize the economy of America's rural communities.
Mr. English also was a senior member of the Government Operations Committee and Chairman of the Subcommittee on Government Information, Justice, and Agriculture from 1981 to 1989. During that period, the subcommittee monitored the Rural Electrification Administration (REA) – now the Rural Utilities Service (RUS) – an agency of the U.S. Department of Agriculture.
Upon his departure from Congress in 1994, Mr. English became the fourth CEO of the National Rural Electric Cooperative Association (NRECA). NRECA is the national trade association for the Nation's 900-plus locally owned, consumer-controlled, non-profit electric cooperatives, which currently deliver electricity to 42 million Americans in 47 states.
As CEO of NRECA, Mr. English chaired Consumers United for Rail Equity (CURE), a national coalition representing captive shippers. He also served on Agricultural Energy Work Group's "25 by 25″ Steering Committee, a group dedicated to increasing, by 2025, renewable energy resources that use agriculture and forestry products. On May 5, 2010, after serving as chief executive officer for NRECA for 16 years, English was inducted into the Cooperative Hall of Fame at the National Press Club in Washington, DC.
"We are very happy to have Mr. English on board and help take the products to the next level. He will be working with the GridFirst board to launch the GridFirst products into the Rural Electric Cooperative markets and also help strategize the GridFirst business solution offerings." said Kartik Kakarala CEO/Co-Founder of GridFirst.
GridFirst, LLC has a line of Smart Energy Management Systems products that benefit utilities and their customers. The GridFirst product line includes Mobile Access for Utilities (MAU), providing a mobile application allowing utility customer to view their metered services through their mobile device and, Outage Notification Management (ONM), a messaging functionality allowing utilities to reach their customers directly through their mobile device. For more information and to participate in the Gridfirst Webinar please register at http://www.gridfirst.com/webinar_registration.aspx