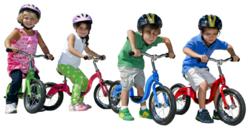 Designed for children ages 3 and up, the KaZAM bike offers a better solution for toddlers learning how to ride a bike.
VIRGINIA BEACH, VA (PRWEB) May 08, 2013
Virginia Beach based company KaZAM, LLC is scheduled to be featured on ABC's "Shark Tank" Friday May 10. One of the company's partners, Mary Beth Lugo, faced the "sharks" to pitch KaZAM's revolutionary product, the KaZAM balance bike.
Learning to ride a bike is a milestone in every child's life. It's one of the first life experiences where kids at an early age build confidence, develop coordination and achieve accomplishment all on their own. Parents typically purchase a pedaled bike with training wheels and off goes their child learning to pedal their big boy or big girl bike. Neither balance nor proper steering is taught using the training wheel concept; even worse is the false sense of confidence and incorrect steering taught using this dated methodology. When the day finally comes when parents decide it's time to take off the training wheels, they are left with the mystery of whether or not their little one is actually going to be able to ride their bike all by themselves, or end up in tears with a skinned knee.
Designed for children ages 3 and up, the KaZAM bike offers a better solution for toddlers learning how to ride a bike. Designed without pedals, the KaZAM bike allows kids to develop their balance before introducing pedaling, making the transition onto a pedaled bike seamless. It's the balance that's the tough part, pedaling is easy! On a KaZAM bike, kids propel themselves with their feet, gradually picking up the pace until they can eventually coast along. KaZAM offers a patented frame design with a foot rest; little riders will naturally pick up their feet and place them on the footrest maintaining proper balance and center of gravity similar to riding a traditional bicycle. It is the most realistic approach to learning how to ride a bike. Balance First, Pedal Next. It's a child-led process.
KaZAM bikes have received several prominent toy industry awards, featured in previous editions of Parents and Parenting Magazines and has appeared on "The Today Show." KaZAM bikes can be purchased online at kazambikes.com, at local retailers and can also be found in specialty bicycle and toy stores across the country. Please check the website for a full store listing.
KaZAM is revolutionizing the way children learn to ride a bike! Be sure and watch "Shark Tank" on ABC Friday May 10 to see if any of the "sharks" take the bait!
About KaZAM:
KaZAM Balance Bikes is a Virginia Beach-based company co-founded by two families, the Lugos and Wagners. KaZAM bikes were launched in 2009 and the company today is run by Mary Beth Lugo and Elizabeth Wagner. The KaZAM has a patented frame design with a foot rest for feet placement and proper balance; and maintaining center of gravity similar to riding a traditional bicycle. KaZAM Balance Bikes have won numerous toy awards: Creative Child Magazine, "2010 Toy of The Year Award, Ride-On Toys-Balance Bike Category"; Oppenheim Toy Portfolio Gold Seal Award 2010, "Best Toy Award given to outstanding new products that enhance the lives of children"; National Parenting Center's (NPC) Spring 2011 Seal of Approval and the 2013 Top Fun Tillywig Award Winner. For more information on KaZAM, please visit kazambikes.com