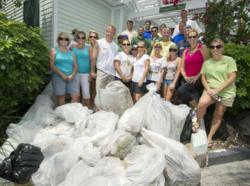 Key West, Florida (PRWEB) May 09, 2013
The Southernmost Hotel Collection, owners and operators of the Southernmost Hotel, Southernmost on the Beach and La Mer Hotel and Dewey House, arranged a neighborhood clean-up of Key West streets stemming from the Southernmost Point to the Casa Marina, and Duval Street to Truman Avenue. A few volunteers also "Took the plunge" in the Atlantic Ocean to clean up the marine sanctuary that lies between South Beach and The Reach Resort. Teams from the Casa Marina, Avalon House, and Reef Relief joined Southernmost Hotel Collection employees on the efforts to make the community unpolluted. With combined determination, the group collected a sizeable amount of garbage.
Earth Day is a publically recognized annual event celebrated every year on April 22. Events are held worldwide to support environmental conservation. In Key West, there was a public event held at Fort Zachary State Park to help clean up the beaches. Many locals take part in the annual Earth Day events because numerous livelihoods depend on the wellness of the eco-system.
"The Southernmost Hotel Collection was very excited to host our first annual neighborhood clean-up," exclaimed Carrie Babich, Southernmost Hotel Collection Director of Sales and Marketing. "We had around 22 volunteers show up to help clean up the streets of Key West. The event showed an excellent display of teamwork not only among our own employees, but with those from surrounding hotels. Our city takes pride in the beauty that surrounds it and we want to make sure we do our part to help preserve it for not only our residents, but the thousands of visitors we get each year."
"We look forward to doing this event again next year on Earth Day, and will hope to enlist the efforts of even more local businesses to stretch the clean-up from one end of Duval to the other," Matt Babich, General Manager of the Southernmost Hotel Collection stated. "The Southernmost Hotel Collection takes global conservation very seriously and is proud to have received the esteemed "One Palm Designation" by the Green Lodging Association of Florida."
To learn more about Southernmost Hotel Collection and the four hotel properties it has to offer Key West visitors, please visit: http://www.southernmostresorts.com .