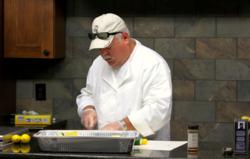 "Our team of 25 had a great evening of learning about food and grilling in a very casual atmosphere," Paul Kerr, Cargill Facility Operations Manager.
Wichita, Kansas (PRWEB) May 08, 2013
All Things Barbecue has been offering cooking classes with instruction by Championship Pitmaster's since 2011. Recently, the team had the opportunity to host a private gathering for a group of Cargill managers.
"We prepared a menu that anyone could cook regardless of what kind of grill they have at home. Menu items included black bean salsa, bacon wrapped filets, a summer vegetable side dish, and a cherry and pineapple dump cake. All of the items were prepared outside on a range of grill types including pellet, charcoal, and gas," says All Things Barbecue owner/operator Don Cary.
Offering private classes gives the All Things Barbecue team an opportunity to present their material in a less structured setting so that groups can socialize as well as learn. The classes give students a chance to get hands on with food preparation. From trimming meat to grilling their own steaks, class participants learn a variety of cooking styles.
"A couple of months ago I was searching for something to do as a social event on a Tuesday evening with some out of town managers. I had heard about All Things Barbecue's weekend grilling classes and thought this could be interesting if I could get them to do this on a weekday," said Cargill Facility Operations Manager Paul Kerr. He added, "I contacted them and they were more than willing to work with us. Our team of 25 had a great evening of learning about food and grilling in a very casual atmosphere. I would highly recommend All Things Barbecue when you are looking for something different to do for your next corporate or group event."
Launched in 2009, All Things Barbecue is a click and mortar retailer of barbecue smokers, grills, accessories and more. Their store is located in the historic Delano District in Wichita, KS, and online at atbbq.com.