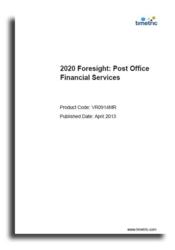 In 2011, financial services accounted for 11.7% of postal operators' total income.
(PRWEB) May 08, 2013
Globally, postal services play a key role in providing access to basic communication and transaction services. The worldwide postal infrastructure has been shrinking for over two decades, in terms of both outlets and numbers of full-time staff. At the end of 2011, the total number of post offices stood at 662,701, of which 439,376 were staffed by officials of the designated operator and 223,325 were managed by people from outside the designated operator.
The traditional letter post service is under pressure from new technology, including the internet and (increasingly mobile) telephone services. Rising numbers of consumers and businesses are sending and receiving bills and invoices via the internet and making payments online or by telephone, instead of using post office services. The substitution of paper-based bills and statements, and bill payments by check, has been a key phenomenon for over 10 years.
With the decline in mail volume, post offices are looking at opportunities to support themselves and compete with other operators, both in the postal and financial sectors. Operators are becoming increasingly involved in providing or expanding their range of financial services, either to increase revenue or due to pressure from governments to increase access to basic financial services. With millions of people regularly visiting and using post offices, postal operators are looking to make additional use of their extensive retail presence and trusted brands. In 2011, financial services accounted for 11.7% of postal operators' total income.
The financial services sector represents a significant opportunity for much-needed additional revenue for postal operators, either directly or through alliances with financial institutions. Many postal operators are also being urged to offer basic financial services such as payments, savings and microfinance to combat social and financial exclusion, particularly in poorer countries, or to better serve more remote geographical areas and isolated social groups. There is a significant potential for partnerships between postal operators and financial institutions, even in markets where postal operators and postal banks already offer a range of financial services. Alliances such as these could produce major financial rewards and deliver social dividends. For instance major banks in the UK such as Bank of Ireland, Barclays, Halifax, HSBC and Lloyds have formed partnerships with the UK Post Office to offer financial services.
For more information, visit http://www.marketresearch.com/land/product.asp?productid=7553793&progid=85423.
Follow us on Facebook http://www.facebook.com/marketresearchdotcom
Follow us on Twitter http://www.twitter.com/marketresearch_
About Timetric
Timetric is an independent economic and business research firm providing critical intelligence on emerging economies and key global industries. We provide detailed economic and sector intelligence, business insights and authoritative, independent commentary.
Timetric's flagship products are economic and industry intelligence centers, which are premium decision tools that provide access to comprehensive research and expert analysis. They provide invaluable decision support presented in easily digestible formats and grounded in deep research.
One of the key components of each of these intelligence centers are the hundreds of high quality research reports across countries, industries and companies, which Timetric produces each year.
These reports draw on in-depth primary and secondary research, proprietary data and high quality modelling and analysis to give you insight into global market and economic dynamics.
About MarketResearch.com
MarketResearch.com is the leading provider of global market intelligence products and services. With research reports from more than 720 top consulting and advisory firms, MarketResearch.com offers instant online access to the world's most extensive database of expert insights on global industries, companies, products, and trends. Moreover, MarketResearch.com's Research Specialists have in-depth knowledge of the publishers and the various types of reports in their respective industries and are ready to provide research assistance. For more information, call Cindy Frei at 240.747.3014 or visit http://www.marketresearch.com.