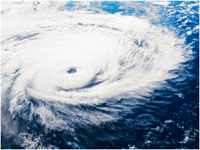 Lincoln, RI (PRWEB) May 07, 2013
Hurricane Preparedness Week kicks off on Sunday, May 26, so it's a good time to start thinking about ways to protect your family, home and other property from these dangerous storms.
According to the Federal Emergency Management Agency, hurricanes can produce winds of more than 155 mph and cause tornadoes and microbursts. They also bring heavy rain, flooding, landslides and mudslides, leaving a path of destruction in their wakes.
That's why Amica Insurance is offering the following tips from FEMA to prepare for hurricanes, which typically strike from June to November:

Put together an emergency kit with enough food, water and supplies to last 72 hours. You should also develop a family communication plan.
Learn about evacuation routes and how to find higher ground. Decide where you will go and alternate ways to get there if you have to evacuate.
Cover all of your home's windows with 5/8-inch plywood that has been cut to fit and is ready to install. Taping windows will not stop them from breaking.
Trim back trees and shrubs to make them more wind-resistant, and clear gutters and downspouts of all debris.
Reinforce garage doors. If wind blows through the garage, it can cause serious structural damage to other parts of your home.
Make sure outdoor furniture, decorations, garbage cans and other belongings that are not tied down are brought inside.
Purchase a generator for emergencies.
If you live in a tall building, find shelter on the 10th floor or lower before the storm strikes.
About Amica Insurance
Amica Mutual Insurance Co., the nation's oldest mutual insurer of automobiles, was founded in 1907. The company, based in Lincoln, RI, is a national writer of automobile, homeowners, marine and personal umbrella liability insurance. Life coverage is available through Amica Life Insurance Company, a wholly owned subsidiary. Amica employs more than 3,200 people in 40 offices across the country.
Contact: Vince Burks, Corporate Communications, 50 Amica Way, Lincoln, RI 02865-1155, 800-652-6422, ext. 24563
Twitter: Amica
Facebook: Amica Mutual Insurance Co.