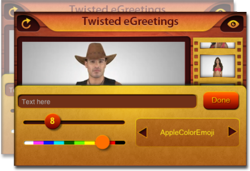 (PRWEB) May 08, 2013
A new app for iPhone and iPad called Twisted eGreetings lets users customize videos and send them to friends and family as virtual greeting cards. The app is available now in the iTunes App Store for $1.99.
The user begins by choosing one of more than a dozen humorous videos from a convenient scrolling sidebar. The collection offers videos for every occasion, mood, and temperament.
Once the right video is selected, the user can add text to the bottom to express his or her true feelings. The combination of different fonts, colors and sizes gives the user almost limitless options for customization.
If text isn't sufficient, the user can even record a unique soundtrack for the chosen video. It's as simple as pressing the microphone button and speaking, singing, playing a musical instrument, or creating one's own sound effects. The new audio is automatically laid over the video's soundtrack.
The user can then watch the video in full screen mode, for final approval or further quick edits. Once it's perfect, it can be sent off via email or Facebook. Just like that, the recipient gets to enjoy a video created just for them!
The Twisted eGreetings app was developed for Lanny Swanner by Zco Corporation, one of the largest mobile app developers in the world.
"The journey to getting the app published was one that I truly enjoyed," Lanny said of working with Zco. "I am very proud of the app."
About Zco Corporation
Founded in 1989 and headquartered in Nashua, New Hampshire, Zco Corporation has served Fortune 20 companies to small businesses for over 20 years. Zco is one of the largest custom mobile app developers in the world. Its services include 3D animation and games, augmented reality and custom software. In addition to Zco's work for hire, it has an iOS and Android-based public safety product, PublicEye®. To learn more, visit http://www.zco.com/.