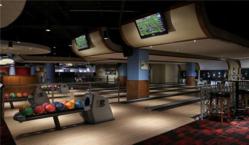 "I found one close to home here in Orlando, so I will be visiting there as soon as possible"
Miami, FL (PRWEB) May 08, 2013
May 8th, 2013 - Imagine being able to go to a restaurant, starting off with a great sushi appetizer, finishing off the meal with a tasty American burger, then hitting the bowling alley to throw done a few frames all in one location, one night. That is all possible at Splitsville, a hip restaurant that combines a bowling alley and restaurant for a complete date night, or just fun away from home. In fact, the Miami Research Associates decided to have their company party at Splitsville on Friday, May 3rd, 2013.
Added to the party, was a photo booth rental provided by Peekaboo Photo Booth, so the employees got to capture all the friendly competition on four images in high quality photo strips. Peekaboo shows up with stylish cabanas which can house up to approximately a dozen or so party goers.
States Andrew Birr, owner of Peekaboo Photo Booth, "When events are booked with us, I take a look at the venues that that they will be held at and Splitsville looks awesome. I mean, they have a restaurant, bowling, and even pool tables all in one building. Not to mention that they have sushi on the menu! I found one close to home here in Orlando, so I will be visiting there as soon as possible."
About Peekaboo Photo Booth
With more than five years of experience, Peekaboo Photo Booth (http://www.peekaboophotobooth.com/orlando-photo-booth-rental/) has completed more than 1,000 successful events. The company offers classy, cabana-style booths that are easy to set up and simple to use. Based in Winter Park, Fla., Peekaboo Photo Booth is a privately owned firm that offers services nationwide. In addition to operating in the Orlando area, the company also has a presence in the following metropolitan areas: Phoenix, Miami, Los Angeles, San Francisco, San Diego, Houston, Dallas, Washington D.C., Philadelphia, Boston, Atlanta, Seattle, Chicago, and Detroit. Peekaboo Photo Booth has been in the Photo Booth Rental Business for over five years and celebrates a nationwide footprint servicing both private and corporate events.