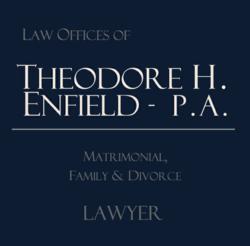 Miami, FL (PRWEB) May 08, 2013
Proving a spouse's income is important because it is a key factor in determining child support, spousal support and attorney fees. If the spouse is a straight W-2 employee, meaning he or she is paid by someone who takes taxes out of their paycheck, it is generally easy. The more difficult task is proving the income of a spouse that is self-employed. This is because many self-employed people are loose with their deductions and claim a lot of expenses.
Proving the income of a self-employed spouse is very difficult as income can be easily manipulated. At the same time, spouses owe each other "fiduciary duties" when it comes to providing access to financial or other information that would be helpful in determining support issues, says Theodore Enfield. The experienced family law attorney advises on how to prove a spouse's self-employment income, in three following steps;
In order to prove that the spouse is earning extra income, start by requesting his/hers tax returns, bank statements, client list and any other information he/she might keep. This information can be used to compare it to the claimed expenses (which are listed on an Income and Expense Declaration); oftentimes expenses will significantly exceed income, creating a question as to how those expenses are covered (the argument is that his/hers income is actually higher).
In addition, the monthly deposits will reflect actual income assuming he/she is depositing those funds in the bank. Oftentimes not all cash is deposited, but the expenses can be used to show the income must be higher in order to cover those expenses. Keeping an eye out for bank statements is important, if a divorce is in the future.
Sometimes a forensic accountant is the only way to determine what the spouse makes or what the company is worth. A forensic accountant has the skill to look at all the documents and determine what the actual income available for support is rather than the "claimed" income. In some instances, the court may even appoint a forensic account to determine the income or value of the company.
In conclusion, proving a spouse's self-employment income can be difficult, costly and time consuming. However, the effort and money may be the best decision should such information lead to an increase in child support and spousal support. Taking an interest in the spouse's business in early stages is vital. Having a basic understanding of the business makes things easier in seeking information during the divorce litigation.
Theodore H. Enfield, Miami divorce attorney - With more than 30 years of experience helping Florida families deal with family law issues such as divorce, child custody, child support, equitable property settlement and domestic violence, Theodore Enfield, one of the respectful divorce lawyers in Miami, has advised his clients through all issues that are likely to arise during those difficult times.
For questions regarding Miami Dade county attorney, contact Theodore Enfield by calling 305-933-9592,
800-733-5299 or filling up a short contact form at http://www.theodoreenfield.com/