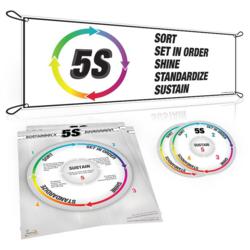 "The banners and posters are a great way to remind workers of 5S methods. I see them every day when I come to work and I know what I need to do to accomplish our goals to become a leaner facility."
Lake Oswego, OR (PRWEB) May 09, 2013
A successful business is lean, organized and efficient and sustains those efforts through continuous training and reminders. A 5S program is a systematic approach to implement organization, efficiency, and increased productivity in the workplace. 5stoday.com is now offering a package that will keep 5S awareness always at the forefront of employee's minds – the 5S Sustain Poster Awareness Package. Sustain is considered the most important aspect of 5S and this package will help any organization do just that.
5S Sustain Poster Awareness Package includes bold and high-resolution banners, posters, and floor signs that are large enough to see even from a distance. Once employees have completed their training about the methods of 5S and time has elapsed, it is not unusual to forget some of those ideas that were taught. The posters, banners, and floor signs reflect the five aspects of 5S which are sort, set in order, shine, standardize and sustain. When they are strategically placed within the workplace, employees will be reminded and empowered to take ownership and maintain 5S in the work environment.
Working with 5S tools and lean techniques will help improve the efficiency of any business quite significantly. The 5S Sustain Poster Awareness Package is one such product that can remind employees of the processes that will assure their work is contributing to the efforts of becoming a leaner and organized facility.
A worker commented, "The banners and posters are a great way to remind workers of 5S methods. I see them every day when I come to work and I know what I need to do to accomplish our goals to become a leaner facility."
For more information about 5S Sustain Poster Awareness Package, please visit http://www.5stoday.com/ or call toll-free (866)402-4776 to speak with a professional representative.