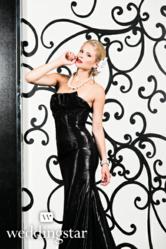 Dunmore, Alberta (PRWEB) May 08, 2013
With over 30 years experience in the wedding industry, Weddingstar Inc. has earned their reputation for 'Putting the Wow in Weddings.' With their ever-expanding lines of wedding accessories and décor, Weddingstar is constantly producing innovative products and inspirations for the most discerning of brides. To showcase both design and product inspiration, Weddingstar has created their own style manual, the Weddingstar Style Lookbooks. The brand-new release in their line of inspiration lookbooks featuring their newest wedding creations is Parisian: Black and White.
Filled with the glamorous appeal of chic black and white color palettes and infused with the romance of Paris, Parisian: Black and White puts a new spin on what a shopping experience can be. Instead of flipping through pages and seeing simple product photos, readers get to see how to create an entire wedding design all from the comfort of their own computer. With designer styles at the their fingertips with the click of a mouse, it is redefining the way that customers can shop and plan for their wedding day.
This new shopping experience is especially useful to help couples make one of the biggest decisions when designing their big day, which is what wedding favors they pick to give to their friends and family. Some want their favors to match their wedding colors, others have a specific theme in mind and yet others want their guests favors to be practical enough for daily use. It can be a harrowing journey to find that right favor but with the lookbooks and Weddingstar's improved color categories and favor sections, the stress of finding the right product is alleviated.
In Parisian: Black and White, couples can see just how simple it is to find the right favors for their guests with an array of different favor offerings being featured. For the DIY couple, the newest lookbook gives inspiration on how to utilize DIY favor supplies to create one of a kind designs. From wax seals to adhesive jewels to decorative favor tags, the little handmade details that flow throughout Parisian: Black and White's favor designs showcase new ways to make wedding guests feel how much their presence at the big day means. For less craft-savvy couples who still want something one of kind, Weddingstar offers a wide range of personalized favors. These personalized favors make the perfect addition for couples that might be wary about trying DIY projects as their wedding date draws nearer or simply might not have the time. With many different options to choose from, these favors can be personalized with the couples own initials, names and sometimes even a short personal message. And, many of Weddingstar's favors, personalized or otherwise, come with an array of color options that Weddingstar has become known for. With the ability to find favors that effortlessly match any wedding colors, fit within a specific theme and even have a practical use for the future, Weddingstar is the one-stop for wedding favors and beyond.
Weddingstar Inc. is one of the world's leading designers, manufactures and retailers of wedding decorations and accessories. Dedicated to providing quality service to brides around the globe, Weddingstar ships to over 100 countries worldwide with distribution points in Europe, North America, Argentina, Australia and Russia. Featuring an ever-expanding selection of bridal accessories with over 3,000 different product offerings, Weddingstar is a one stop destination for every wedding need. With 30 years of experience in the wedding industry and having received numerous business awards, Weddingstar has earned a reputation as the source for 'Putting the Wow into Weddings.' For more information please visit http://www.weddingstar.com.