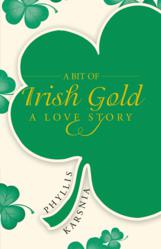 DULUTH, Minn. (PRWEB) May 09, 2013
Starting with stories of her Irish family's adventure to America, Phyllis Karnisa combines the thin strands of her family's tales in her new book.
"A Bit of Irish Gold" is a fictionalized biography that follows Matt Donahue's journey through oppression, love and freedom. Beginning in 1888, the reader emerges in Matt's adventure of leaving repressive Ireland to pursue the American Dream. Along the way, he falls in love with a beautiful young Irish lady, Annie Rice, whose love is put on hold as Matt establishes himself in rural northern Minnesota.
Inspired by her mother-in-law's stories, Karsnia embarked on three trips to Ireland to learn more about the heritage, culture and dialects of family past. "A Bit of Irish Gold" is based on true-life experiences and research, showing the courage, strength, perseverance, and patriotism of the immigrants who came to America to start a new life.
"My mother-in-law, Marie Donahue Karsnia, was born in 1911; she lived through most of the 20th century," says Karsnia. "Many of her numerous descendants would never know her past history or lifestyle, so I began to ask her questions about her life."
Tackling the rough patches of leaving family, immigration, and love, A Bit of Irish Gold is perfect for historians of every age as they follow true romance across continents.
A Bit of Irish Gold
By Phyllis Karsnia
ISBN: 978-1-4759-6998-6
Pages: 202
Price: (SC) $14.95 (HC) $24.95
Available at http://www.iuniverse.com, http://www.amazon.com, and http://www.barnesandnoble.com.
About the author
Phyllis Karsnia retired from Boise Cascade Corporation's human resource division in 1997. Armed with a digital camera, she now captures nature scenes to create cards for her business, KarsCards. She currently lives with her husband, Leo, on Rainy Lake, across from the site of Rainy Lake City Goldmine where Matt worked before finding the land for his homestead
# # #