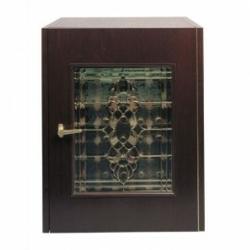 Online retailer, Goedeker's is proud to now sell a wide range of Vinotemp beverage centers, wine chillers and more.
Ballwin, MO (PRWEB) May 10, 2013
Online retailer, Goedeker's is proud to now sell a wide range of Vinotemp beverage centers, wine chillers and more.
Consumers needing wine storage already know Vinotemp offers some of the finest products on the market. Whether consumers are looking for wine chillers to handle a few bottles or hundreds, now Goedeker's has them all.
To find your Vinotemp wine storage today, visit Goedekers.com.
About Goedeker's
Goedeker's is a leading online retailer of appliances, mattresses, furniture, and plumbing supplies. Ever since 1951, Goedeker's has practiced excellent in customer service. Now, Goedeker's brings that same hometown service to the entire continental United States via the Internet. Explore GE Appliances, discount appliances or other fine products Goedeker's offers at Goedekers.com.
About Vinotemp
Vinotemp International, a leader in the wine storage industry, has been building premium wine cabinets for over 25 years. Vinotemp is a full-service manufacturer of custom wood wine cabinets and racking, Wine-Mate cooling systems, and a distributor of quality metal wine cellars. We specialize in all aspects of the wine storage industry with an emphasis on customization. Since 1985, we have sold over 250,000 wine cellars in the U.S. and overseas.
Our goal is to provide the three most important aspects of a successful business; Quality, Value and Service. We are known in this industry to provide a high quality product for an affordable price. Our custom built products, made right here in Southern California, are also well known. For those on a budget we provide an entire line of products which produce the perfect environment for a wine collector. Vinotemp is a full service company. The turnaround time for our custom cabinets is very fast, and our metal wine coolers can be shipped out the following day. No other manufacturer has the flexibility we have since we make almost everything here in our factory. For those who do not require the flexibility in size and color, our imported products provide customer choices at a value as well.
Vinotemp believes in giving you options so there is no reason to shop elsewhere for wine storage. We offer everything from inexpensive countertop coolers to exotic commercial wood cabinets found at many hotels and restaurants like the Ritz Carlton, House of Blues, Hard Rock Cafes and more.