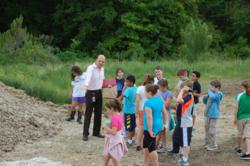 If these students are our future, we're in good hands.
Southlake, Texas (PRWEB) May 09, 2013
The Clariden School of Southlake's upper elementary class students recently toured Sabre's Silver LEED certified campus headquarters. The students were given a tour by Richard Cauler, Customer Marketing Manager and Environmental Advocate.
During lunch, they learned about the compost process after eating on compostable tableware. They were also given a tour of the Sabre Headquarters and learned all of the ways Sabre as a company is committed to minimizing the environmental impact of their global operations while promoting sustainable business practices in travel and tourism.
The bright 5th graders commented, "This is so cool" and "I commend you for your efforts." Cauler's response to the Clariden students, "If these students are our future, we're in good hands!"
The Clariden School is a progressive school with a Montessori Pre-K-6 program followed by a challenging, customized, entrepreneurial program that builds student's strengths in 7-12.