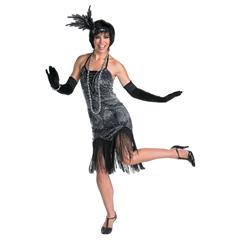 Chicago, IL (PRWEB) May 08, 2013
On May 10th, the highly anticipated film, "The Great Gatsby", will debut in theaters all over the country. The film is an adaptation of one of America's most famed novels. Since the 20's were a particularly exciting time in history, especially with music, fashion and style, individuals tend to host Roaring 20's parties and celebrations, and will likely do so throughout the upcoming months in honor of the new film. Chicagoland party supplies retailer, Windy City Novelties, has added Roaring 20's party supplies and costumes to its extensive product line.
The 1920's were a time of jazz, high fashion, consumerism, and urbanization. More Americans were living in cities rather than on farms, and were much wealthier than families in the past. This allowed them to buy many luxury items such as clothing, jewelry and cars. The 20's were also a time of prohibition but that did not prevent many Americans from consuming alcohol. Many undercover bars, called speakeasies, were disguised as something other than a bar and served liquor despite the laws at the time.
F. Scott Fitzgerald published his novel, "The Great Gatsby," in the spring of 1925 about a wealthy, mysterious man and the fabulous parties he hosted every weekend. There have been several film adaptations throughout the years, with the 2013 as the sixth film adaptation. The film features the aspects of the 1920's including Jazz music, the elegant clothing of the wealthy, dancing, and drinking. The trailers for the film have already premiered on national television and show more action than what was shown in the previous film adaptations. The film features distinguished actor--and three time Academy Award nominee, Leonardo DiCaprio, as well as other actors, with the addition of a few new faces.
It is anticipated that the film will encourage individuals to host Gatsby themed parties or "Roaring 20's themed parties, which is why Windy City Novelties has added 20's themed party supplies to its website. The retailer offers many 20's themed costumes. There are many different types of "Flapper" costumes available, ranging in all colors and styles, for both children and adults. Since the 20's was the era of Al Capone and other famous "gangsters," men can dress in gangster style suits with pinstripes, a popular trend during that time. There are also Gangster costumes available for the women, as well.
Instead of purchasing an entirely new costume, customers can choose to purchase from the selection of newly added 1920's costume accessories to enhance their existing 20's getup. Windy City Novelties provides a large selection of wigs, including 1920's women's hairstyles—short, wavy bobs—as well as Flapper headpieces and fascinators. Eyeliner and lipstick were two very important female makeup products of the 20's, and therefore are important aspects of a Roaring 20's costume. The retailer provides easy-to-use, step-by-step makeup kits for women. They also provide other types of 20's costume accessories, such as boas, jewelry, hats, suspenders, and much more.
When browsing through the Roaring 20's product section, consumers will also be able to locate Roaring 20's decorations and scene setters for respective Gatsby themed parties and events. As previously stated, Jazz music was the popular music of that time, and therefore party hosts can decorate with Jazz themed wall decorations and paper goods, as well as many more decorations.
ABOUT WINDY CITY NOVELTIES
Windy City Novelties, a party supply company founded in 1983, is known for their great selection and competitively priced items. They have an A+ rating from the Better Business Bureau and are also a NexTag 5 star Seller. From their website, windycitynovelties.com, they offer fast and friendly shipping along with great customer service. From glow sticks in every color of the rainbow, to party decorations in a variety of themes, and even a vast selection of Halloween costumes at the best prices, Windy City Novelties has over 15,000 products and adds more each week. Windy City Novelties also provides party and gift ideas and advice. For help or more suggestions, email our experts.