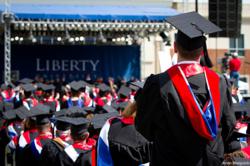 Lynchburg, VA (PRWEB) May 08, 2013
More than 30,000 people are expected to attend Liberty University's 40th Commencement exercises on Saturday, a historic day for the university as it welcomes its first female keynote speaker, Fox News reporter Shannon Bream ('93). Bream is also the first Liberty graduate to give the Commencement address since the school became an accredited university in 1980. The ceremony begins at 10 a.m. inside Arthur L. Williams Stadium.
Graduates will briefly hear from prominent Christian apologist Ravi Zacharias, who will also deliver the Baccalaureate message Friday at 6 p.m. in the Vines Center.
The Class of 2013, Liberty's largest graduating class ever, consists of 15,161 graduates — 2,561 resident and 12,600 from Liberty University Online. A strong supporter of American values and liberties, the university is proud to celebrate 4,171 military graduates.
Following Commencement exercises will be degree presentation ceremonies for the respective colleges and departments.
Several events will take place throughout the day on Friday, including special receptions for Liberty University Online and residential graduates and their families, a military graduate recognition ceremony, and commissioning ceremonies for Army ROTC and Air Force ROTC.
Thanks to the convenience of Liberty's innovative distance learning degrees, the university boasts graduates from all over the United States and around the world, from diverse backgrounds, ethnicities, and generations. Graduates this year range in age from 18 to 81. The top five countries represented (outside the U.S.) are: Korea, Canada, Jamaica, Trinidad and Tobago, and Kenya.
Top five majors
Resident undergraduate:
Nursing
Criminal Justice
Studio and Digital Arts, Graphic Design
Communication Studies, Advertising & Public Relations
Sport Management
Resident graduate and doctoral:
Juris Doctorate
Master of Theology
M.A. Professional Counseling
M.A. English
M.A. Communication Studies, Media
Liberty Online undergraduate:
Religion
Interdisciplinary/Multidisciplinary studies
Psychology, Christian Counseling
Psychology
Education
Liberty Online graduate and doctoral:
M.A. Human Services, Marriage & Family
M.A. Professional Counseling
M.A. Management and Leadership
M.A. Theological Studies
M.A. Accounting
About Liberty University
Liberty University, founded in 1971, is the largest private, non-profit university in the nation, the largest university in Virginia, and the largest Christian university in the world. Nearly 100,000 students attend classes on its 6,800-acre residential campus and study in its thriving online education program.