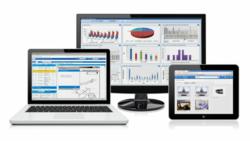 InService EPC Version 5.5 is a real game changer for OEMs looking to improve customer/dealer support and increase aftermarket parts revenue."
Burlington, MA (PRWEB) May 08, 2013
Enigma, Inc., the leader in aftermarket service and support technology, today announced the release of version 5.5 InService® EPC with tablet compatibility and Dashboard Reporting.
InService EPC 5.5 is the most advanced electronic parts catalog software on the market and is used by OEMs worldwide to facilitate parts lookup, sharing of service, sales, and related maintenance information, in addition to parts ordering through extensive integration with customer's enterprise resource planning (ERP) systems.
The InService EPC tablet compatibility expands the capabilities of service staff through the introduction of an application expressly designed for use with tablet hardware. It provides full functionality with touch screen navigation and the convenience of tablet portability.
This latest release is HTML 5 and CSS3 compliant making it device and browser independent so service technicians can use whatever device they want, wherever online connection is available. InService EPC, features built-in streaming pdf so users can view, search with highlight and display parts and service information without an outside pdf viewer as well as drawings of all formats.
InService EPC Dashboard Reporting is a newly created executive management tool for Enigma InService EPC customers. It captures data trends of the OEM's service and parts business and visually represents it in an easy-to-read chart format by highlighting pre-defined key performance indicators (KPIs).
"The Dashboard is an extremely important management tool," says Jonathan Yaron, CEO of Enigma. "For the first time it uncovers user buying habits of spare parts as well as trends in the service and support of complex equipment. It is a real game changer for OEMs looking to improve customer/dealer support and increase aftermarket parts revenue."
The InService EPC Dashboard adds a layer of business intelligence not found in other electronic parts catalog software. It brings clarity and visibility to previously undetected processes and products, and gives management the tools to influence people and parts purchases. OEM executives are able to evaluate and optimize aftermarket service and parts processes—those recurring activities that drive the most profitable part of the business.
OEMs with dealer/distributor networks are able to measure buying habits of those networks while OEMs with their own field service teams are able to evaluate staff efficiency. The Dashboard helps companies gauge the impact of the EPC system on either dealer or field service and parts business, and capitalize on opportunities to realize untapped revenue. It is a real-time, data-driven competitive advantage that helps OEM executives capture more of the aftermarket parts market.
In addition to the major feature update, InService EPC Version 5.5 includes some other strategic upgrades to the interface, performance, functionality and administrative control:

Tablet compatibility – Browser and device independence on a fully functional application designed expressly for mobile tablet use
Executive Reporting – Introduces the InService EPC Dashboard feature
More Intuitive User Interface – Redesigned to be consistent with latest e-commerce practices including shopping cart location and more descriptive search results
Enhanced Performance – Faster processing of catalog revisions and faster graphic user interface
Improved Functionality – Delivering more detail in part descriptions and more flexibility in assembly structure
More Detailed Admin Control – Ability to broadcast "What's New" messages on the main page of the EPC, and the ability to limit user modifications to item descriptions and price
About Enigma
Enigma develops software for the highly regulated MRO (Maintenance Repair and Overhaul) industry, as well as EPCs (electronic parts catalogs) that are widely used in OEM dealer networks and field service operations in a variety of industries. They are headquartered in Burlington, MA, with a development team in Tel-Aviv, Israel, and offices worldwide.
###