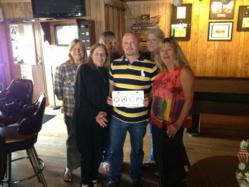 Awareness needs to be raised in our local communities that the military is greatly affected by the disorder as well
San Diego, CA (PRWEB) May 08, 2013
With a "Tackle Sleep Apnea" event on the horizon, David Gergen and members of Pro Player Health Alliance (PPHA) have been heavily involved in spreading awareness of Obstructive Sleep Apnea (OSA) and details of the event in the California communities. PPHA has focused largely in part on reaching out to American Legion posts around the Scripps Memorial Hospital, where the next event will be held. The American Legion is a social and mutual-aid veterans' organization including members of the United States armed forces.
Symptoms of sleep apnea are wide in range, however the most common are unexplained daytime sleepiness, restless sleep, and loud snoring (with periods of silence followed by gasps). OSA can put you at risk for high blood pressure, obesity, stroke, and heart disorders, amongst many others.
"Awareness needs to be raised in our local communities that the military is greatly affected by the disorder as well. We want to raise awareness to our military families that are living with the disorder," says Gergen. "That is why we are working so closely with the American Legion and Veteran's of Foreign Wars (VFW) around the country."
The next event hosted by Pro Player Health Alliance will be sponsored by Dr. Bradley Eli in California this May with the likes of HOF CB Mike Haynes, WR Roy Green, Derek Kennard and former San Diego Charger Mark Walczak. Typical events range in size of 120 to 300 people, so it is important to register early. In addition, players will be signing autographs and photo opportunities will be available for anyone in attendance. Registration can be found at http://pphasandiego.eventbrite.com/
Event Details
Date: May 21, 2013
Time: 7:00 PM
Location: Scripps Schaetzel Center, 9890 Genesse Ave La Jolla, CA
About David Gergen
David Gergen, CDT and President of Pro Player Health Alliance, has been a nationally respected dental lab technician for over 25 years. He received the award for "The Finest Orthodontic Technician in the Country" given by Columbus Dental in 1986. He also has been appointed chair of the dental wing of the American Sleep and Breathing Academy a national interdisciplinary academy dedicated to sleep training and education with over 60,000 members. David rolled out of bed on September 12, 1981 and had his career "ah ha" moment. He knew he was going to be an orthodontic technician and he knew he was going to help people all over the country to help treat their sleep disorders in partnership with their dentists. He has worked for some of the pioneers in the orthodontic and sleep dentistry fields. He was the personal technician for the likes of Dr. Robert Ricketts, Dr. Ronald Roth, Dr. A. Paul Serrano, Dr. Clark Jones, Dr. Harold Gelb, Dr. Joseph R. Cohen, Dr. Rodney Willey, Dr. Allan Bernstein, and Dr. Thien Pham. One of his proudest achievements is receiving The National Leadership award for Arizona Small
About Dr. Bradley Eli
Dr. Eli earned a post-doctoral Master's Degree at UCLA where he received advanced training in sleep disorders. He remains the only expert with this unique skill set in the San Diego region. Dr. Eli is on the hospital staff at Scripps Memorial Hospital La Jolla and UCSD. He is a member of numerous professional associations including the American Academy of Sleep Medicine and the American Academy of Dental Sleep Medicine. He holds multiple patents in the fields of both sleep and pain.
About Pro Player Health Alliance
The Pro Players Health Alliance (PPHA) is an organization dedicated to helping former NFL players, through providing testing and treatment options for those who suffer from sleep apnea. In addition, the PPHA is dedicated to integrating education and raising sleep apnea awareness, in a fun and memorable way. In addition to the campaign, the PPHA is dedicated to testing and getting people treated who suffer from sleep apnea. The PPHA was created by David Gergen, President of Gergen's Orthodontic Lab, Rani Ben-David, President of Sleep Group Solutions, and Former NFL legends.