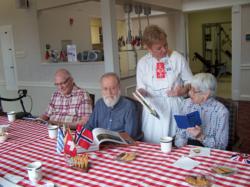 Residents became more aware of how small, daily acts of service and kindness are meaningful and important."
Evanston, IL (PRWEB) May 08, 2013
Staff at The Highlands at King Home, a Presbyterian Homes assisted living community in Evanston, IL, presented its new Total Person Wellness Program on May 2, 2013, at the annual meeting of Life Services Network (LSN) in Chicago. LSN is the state industry association for older adult services organizations.
The program includes traditional fitness and nutrition but addresses wellness through three components – self care, inner work and service to others. The program dovetails with Presbyterian Homes' organizational wellness philosophy, which emphasizes a multidimensional approach toward encouraging residents "to enjoy the fullness of life in community with the greatest independence their health will allow."
The project was developed after conducting resident and staff focus groups and looking at 2011 wellness ratings on an annual resident satisfaction survey. Responses suggested that residents needed to be made more aware of available activities that are part of total wellness.
"We introduced 'The Total Person Wellness Program' in 2012 with activities for residents to engage more fully in other contributors to wellness," said Kathi Young, administrator at The Highlands at King Home. "At year's end we were very encouraged by the enthusiastic participation and feedback from our residents as well as increased wellness satisfaction scores."
The Total Person Wellness program includes self-care and offers nutrition counseling, Tai Chi, Zumba and an annual wellness fair. It also offers inner work and service to others as a means of achieving greater health and life satisfaction through a mind/body connection. Inner work includes reflection, discussion, being vulnerable with others, spiritual opportunities, counseling, connecting with nature, and developing a sense of community. Programs included:

"Let's Gather" discussion groups about things that matter
"Music for the Soul"- music as meditation
"Words of Wisdom" support materials that residents help to write, edit and produce.
"Connecting With Nature" - creating flower and vegetable gardens, sharing the produce, being outdoors, observing nature, "going green."
Research supports the positive effects of the Total Person Program's third component of volunteering and being of service. According to "The Health Benefits of Volunteering," published in 2007 by the Corporation for National and Community Services, Office of Research and Policy Development, volunteering provides health benefits, especially for older adults. Being of service provides a sense of purpose, improved satisfaction and self-esteem, lower levels of depression, increased social connections, better health and lower mortality rates.
"We wanted to re-frame volunteering so that residents could see daily opportunities to serve and have purpose in addition to formal volunteer commitments, " says Carol Moss, director of social services at The Highlands at King Home. "Residents became more aware of how small acts of service and kindness are meaningful and important."
Programs and activities in support of service to others included:
Participating in a food and sundry drive
Creating a new resident-run coffee café
Be A Buddy – help to orient a new resident to the community
Compliment Day – give positive acknowledgement to someone
Writing a serviceman
Watering plants
Random acts of kindness
Mentoring a student; sharing your talents
"The program is ongoing and growing," says Ms. Young. "An unexpected outcome was the energizing of the staff and residents. They are now generating more ideas and opportunities to create wellness through a more holistic approach."
###
ABOUT THE HIGHLANDS AT KING HOME
The Highlands at King Home is a Presbyterian Homes assisted living retirement community in downtown Evanston, IL, offering 53 apartments, maintenance-free living, fine dining and a full range of programs and activities. To meet the needs of residents, a wide variety of care and support services is available with registered nurses on duty 24/7. For more information, go to http://www.kinghome.org or call 847-866-2111.
ABOUT PRESBYTERIAN HOMES
Founded in 1904, Presbyterian Homes is a not-for-profit, faith based organization with a national reputation for creating extraordinary retirement communities. Presbyterian Homes serves older adults through its residential and health care programs on campuses in Evanston, Lake Forest, Arlington Heights and Chicago, Illinois. The organization is accredited by CARF-CCAC (Commission on Accreditation of Rehabilitation Facilities - Continuing Care Accreditation Commission), the nation's only accrediting body for retirement communities. To find out more about Presbyterian Homes, go to http://www.presbyterianhomes.org