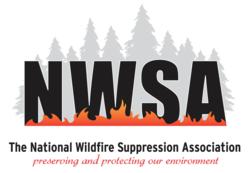 "As fire season begins, our members stand ready to fill the needs for resources to protect life, property and our environment," Deborah Miley, NWSA Executive Director.
Lyons, OR (PRWEB) May 09, 2013
National Wildfire Suppression members are on the front lines of wildfires as fire season makes an early arrival in the West.
Braving the smoke, heat and danger of wildland fires or the aftermath of disasters and emergency incidents is an "army" of federal/state and local agency responders battling to contain the crisis. When the magnitude of the event exceeds agency resources, these agencies can call in reinforcements from professional wildland fire contractors. These resources are call when needed and they provide a highly trained, cost effective workforce. The private industry can provide rapid response with over 195 20-person hand 710 pieces of water handling equipment, 73 faller modules and 921 pieces of specialized equipment.
Wildfire can destroy everything in its path. With a mere shift of the wind, it can become a monster endangering those who don't understand its nature. Federal, state and local government firefighter skills are honed by arduous and constant training required to fight wildland fires. When lives are on the line, the agencies must have confidence in any resources that are a part of the fire community. Since 1991, the mission of NWSA is to insure that its members earn that confidence. Because safety and skill is paramount, certifying instructors is a vital part of NWSA services to its member companies.
So as wildfire season begins private fire resources are available to supplement agency resources during the height of the 2013 fire season.