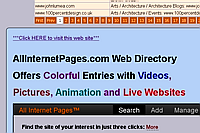 With its powerful search engine and dynamic and colorful entries, All Internet Pages™ is designed for the way people shop and search for product information on the Web today
Richmond Hill, Ontario, Canada (PRWEB) May 08, 2013
Website owners ready to stand out from the pack, take control of their brand's image and attract customers now have a powerful tool just for them. New from Shiny World Corp., Web directory http://www.AllInternetPages.com is loaded with features websites need to increase traffic, all with directory entry prices starting at $1 per year.
"With its powerful search engine and dynamic and colorful entries, All Internet Pages™ is designed for the way people shop and search for product information on the Web today," said Mark Raynus, a spokesperson for Shiny World Corp.
Features: Designed with all types of businesses in mind, All Internet Pages™ offers entries that make a statement with added color, photos, embedded YouTube videos or even a live version of the company website. Visitors who like what they see can click through the live website or the links provided with the All Internet Pages™ entry.
Speed: Other Web directories often require days or weeks to approve and post an entry. This is not the case with All Internet Pages™. As soon as a website owner submits an entry for http://www.AllInternetPages.com, it immediately becomes visible on the Web to prospective clients. If entry updates become necessary, website owners can quickly and easily make them through an automated Entry Management feature. The modifications appear as soon as they are saved.
Convenience: To guide visitors in their search for products and services, All Internet Pages™ entries are organized among more than 3,000 categories, and a user-friendly search engine allows visitors to find what they need in a few clicks. To assess the draw of a website's All Internet Pages™ entry, a website owner can easily check statistics for views and clicks at any time through the Entry Management feature.
Price: Text-only entries sell for $1 while more enhanced entries with colorful backgrounds, photos, animation and inclusion of a live website sell for $5 per year. Entries that include a YouTube video sell for $10. Website owners interested in learning more about prices and options and those ready to sign up can visit http://www.AllInternetPages.com.
"In a crowded marketplace with millions of companies vying for attention, businesses need an edge. After all, people don't buy what they don't know about," said Raynus. "With All Internet Pages™, websites can garner the global exposure they need to attract customers and thrive. Using the latest Web development tools available, All Internet Pages™ provides website owners with the opportunity to create directory entries as unique as their business. Websites get all this with less than 10 minutes of work and for an investment of less than $10."
About Shiny World Corporation (Canada)
Founded in 1998 and based in Richmond Hill, Ontario, Shiny World Corp. provides support solutions for Internet, intranet and client-server technologies. The company's unique software problem-solving strategies have aided businesses in the United States, Canada, Spain, Italy, Germany and the United Kingdom.