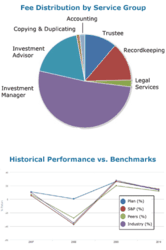 We are excited to provide our customers with Retirement PlanView to help them easily identify opportunities to reduce service fees, increase assets and maximize the ROI of poorly managed plans
Norwood, MA (PRWEB) May 08, 2013
Infinata, part of the Financial Times Group of companies, today announced Retirement PlanView™ to meet overwhelming customer demand for analytical insight into business development opportunities to displace competitors and improve the fees and performance of corporate retirement plans.
Featuring an intuitive cloud-based user interface, Retirement PlanView integrates and analyzes sponsor, fee, plan, fund and performance data from 1.5 million corporate plans in the United States to create actionable intelligence for business development executives.

Opportunity reports: Daily notifications of plans customized to meet your ideal business development criteria
Benchmarking: Analytic reports comparing your competitors' performance and service fees to help you quickly identify potential improvements for specific plans
Decision-making contacts: Profiles and contact information for the plan administrators, actuaries, insurance providers and more
"We are excited to provide our customers with Retirement PlanView to help them easily identify opportunities to reduce service fees, increase assets and maximize the ROI of poorly managed plans," said Ruth McHenry, Managing Director of Infinata. "Retirement PlanView is a unique and ideal business development solution for practice managers, sales leaders and financial advisors at asset management firms, banks, wire houses, and independent financial and wealth management firms."
Retirement PlanView is a customized online solution featuring analytics and standard reports include fee trend analysis, service provider profiles, peer group analysis, recordkeeper reviews and plan trend reports. It also features precise searches through robust plan and company profiles, daily email alerting of new opportunities and live telephone support to ensure customers get the most value out of the solution.
Retirement PlanView is the latest business intelligence solution in Infinata's premium suite of wealth management and financial provider solutions including High Net Worth Insight™, Wealthmonitor™ and Plan Sponsor Insight™.
Receive a personalized demonstration and free trial of Retirement PlanView.
About Infinata
Featuring a comprehensive BioPharm Solutions Suite, unique Wealth Prospecting tools and innovative Custom Data Services, Infinata provides personalized technology solutions to turn information into insight. Infinata is a part of Mergermarket, part of the Financial Times Group of companies and a division of Pearson plc.