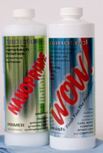 Save time and money with WOW!
(PRWEB) May 23, 2013
Some unconventional anti-fouling prop treatments used by boaters have ranged from the use of Cayenne pepper, super super hot Mexican Sauce and even using lady's old tights over blades when the boat is not in use. Some boaters have even toyed with the idea of using Vaseline on the bottom of aluminum boats for protection.
Helmar Distributors says that nanotechnology offers an easier solution to anti-fouling treatment for aluminum and stainless steel propellers. The product is called Nanotech WOW! Previously the product was only offered to commercial use but has just recently been released to consumers.
Helmar Distributors, an internet company who specializes only in Nanotechnology products, has sold WOW! for the past three years. The owner says ... "No other product on the market is so easy to apply and to work with. Once you start using WOW!, you will never go back to rubbing wax or paste. The product is so versatile, it can be used on automobiles, in the home, on aluminum, stainless steel, airplanes and many other areas that need protection."
WOW! products uses nano-polymer technology, the science of the very small, that bonds and protects the surface. WOW! has no VOC's or hazadous chemicals to spoil the environment. It is a water based product that consumers can feel comfortable in using.
The sealant sprays on with ease and when it dries is buffed to a shinny finish. There is no messy clean up or special tools to apply and costs about 1/3 the price of other coatings. It is long lasting and tested for up to 6 months. It protects surfaces against corrosion, rust and provides UV protection for painted surfaces.
Helmar Distributors sells both WOW! Finish and WOW! Nanoprime in 16 oz trigger spray bottles for $20.00 each. They also sell a sample pack for $10.00.
For more information go to wowforboats.com.