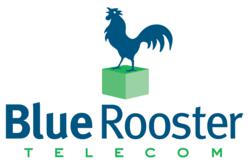 Two new team members will help Blue Rooster Telecom grow even further in the coming years.
SAN LUIS OBISPO, CA (PRWEB) May 08, 2013
Blue Rooster Telecom continues to grow with the addition of Operations Manager Johanne Mercier and Sales Support Representative Craig Johnson.
A telecom veteran, Mercier will play a leading role in structuring and organizing Blue Rooster Telecom as it continues to expand, while Johnson will assist the sales staff by working closely with Director of Sales Bill Schwoerer and Business Development Representative Karen Libby.
"We are happy to expand our team and services to better meet the needs of our clients," said Blue Rooster Telecom President Jeff Buckingham. "Johanne and Craig's previous experience working in telecommunications will contribute to the excellent service expected from our company."
A San Luis Obispo-based company, Blue Rooster Telecom has earned a reputation for excellent customer service, reliable products and custom solutions. But, in addition to that, the company makes telecommunications exciting and fun.
"I enjoy creating unique products and services for our customers," Mercier said. "It's exciting to help a customer become more efficient and save money."
Previously working with start-up telecommunication companies in the Central Coast and Central Valley, Mercier provides expert knowledge in creating infrastructure and developing sales teams. Her big personality and can-do attitude add to the friendly and supportive atmosphere at Blue Rooster Telecom.
Johnson has lived on the Central Coast for 20 years. He attended San Luis Obispo High School and graduated from Cal Poly with a degree in computer science. His previous telecommunications experience includes installing cables and switches to provide the Cal Poly campus with phone, internet, and cable television, and working as a customer care representative at another telecom company. With his hard-working, solutions- orientated personality, Johnson is the perfect complement to the sales staff and Blue Rooster Telecom.
For more information, visit http://www.blueroostertelecom.com or call (805) 543-8700, where a live, local person answers calls and questions, every time.
ABOUT BLUE ROOSTER TELECOM
Blue Rooster Telecom is a telecom carrier offering voice, VoIP, Internet, and data services to businesses on the Central Coast of California. Its customers are always first, as the company sets the highest standards for customer service, delivering reliable products and creating custom solutions. Quality of life is important to the Blue Rooster Telecom employees, which is why they love what they do and have fun with their customers. For more information, visit http://www.blueroostertelcom.com or like them on Facebook at http://www.facebook.com/blueroostertelecom.