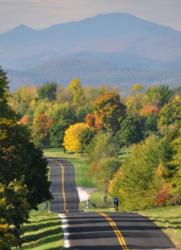 For people who can't fit a week long vacation into their busy schedule, these weekend trips are just the ticket.
Burlington, Vermont (PRWEB) May 09, 2013
Sojourn Bicycling Vacations will begin offering weekend bike tours in their home state of Vermont this summer. The three new trips, planned for prime cycling season in Vermont, debut in June and continue through September. Each trip includes three nights of lodging at one of Vermont's top inns as well as three full days of riding the State's finest bike routes.
Best known for their six-day, world-renowned Lake Champlain Valley tour, Sojourn now plans to make this spectacular region of Vermont more accessible to cyclists who find it difficult to get away for a full week's vacation. One of the three new trips will be based on the shore of Lake Champlain at the historic Basin Harbor Club, offering an array of activities such as boating, golf and tennis, as well as serene lodging, and exceptional cuisine. This trip provides easier and intermediate bike route options as well as visits to the Lake Champlain Maritime Museum and historic sites such as Crown Point and Essex on the opposite shore of Lake Champlain.
Trapp Family Lodge in Stowe will host an intermediate level trip that also offers plenty of activities other than cycling. This sprawling property features an extensive network of walking trails, mountain bike trails, outdoor pool, and spa. Road cyclists will enjoy a classic loop through picture book farmland and a spectacular rural ride to Montpelier, Vermont's State Capital. A reception with Sam von Trapp at Trapp Brewery is also planned.
Sojourn will also offer a trip for avid cyclists who want to test their mettle by tackling the famed gaps in Vermont's Green Mountains. The Waybury Inn, nestled at the base of the mountains in the tiny village of East Middlebury, will serve as the lodging base for the gaps trip. Featuring over 10,000' of climbing over three days, participants will appreciate the hearty fare in the Waybury's restaurant and pub, as well as the selection of local craft beer. A nearby mountain stream will provide a refreshing way to conclude each day's ride - one of which features a full century option.
Sojourn founder and president, Susan Rand, indicates that "We've received numerous inquiries about weekend trips and are excited to begin welcoming people to our home state of Vermont for these fabulous little getaways. For people who can't fit a week long vacation into their busy schedule, these weekend trips are just the ticket."
Sojourn specializes in deluxe bicycling and active vacations in the US and Canada. Known for their exclusive itineraries and unmatched personalized service, the company has been designing and operating trips since 2004. Their tour leading team is comprised of seasoned professionals and a support van accompanies all trips, providing refreshments, a lift for tired cyclists, and luggage transfers to the next inn in the itinerary. Signature trips include Arizona's Sonoran Desert, Vermont to Quebec City, and the Lake Champlain Valley of Vermont.
For more information, contact Susan Rand at (802) 425-4771 or srand(at)GoSojourn(dot)com