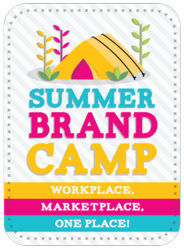 "If you can only attend one conference this year, Summer Brand Camp should be at the top of your list," stated Sherie Valderrama of Sodexo
Dallas, TX (PRWEB) May 08, 2013
Restaurant industry professionals plan to gather in Dallas, Texas June 4th – 6th for the 4th annual Summer Brand Camp conference produced by People Report, Black Box Intelligence and Be the Change Revolutions. Industry professionals who attend the event include operators, marketers, social media and community managers, human resource and recruitment practitioners, along with savvy technology partners. The theme of "Workplace, Marketplace, One Place" focuses on the intersection of employer and consumer brands in the digital age. Conference content and events promote the vision of a work environment without silos, anchored in community and purpose that can improve the future for the restaurant industry and the planet.
The Summer Brand Camp 2013 line-up includes some of the most brilliant minds in business, including Ryan Estis, Chief Experience Officer at his own game changing firm; Doug Levy, CEO of MEplusYOU and Agencies for Change, Bruce Tulgan, Founder of Rainmaker Thinking and Alan Schaefer, Founder of Banding People Together. The Summer Brand Camp stage will also host speakers from Facebook and Huffington Post as well some of the brightest and most talented restaurant industry leaders including Greg Creed, CEO and President of Taco Bell; Kat Cole, President of Cinnabon, and Paul Damico, President of Moe's Southwestern Grill.
"If you can only attend one conference this year, Summer Brand Camp should be at the top of your list," stated Sherie Valderrama of Sodexo. "Summer Camp is a great way to refresh, refocus and connect with a lot of amazing industry people," added Daniel Gragg of O'Charley's.
"I left with a renewed energy for pushing our social and digital marketing strategy to better integration with our workplace messaging. The content was really strong and inspiring, thanks for inviting me to be a part of it," said Krista Gibson, Senior Vice President of Brand Strategy at Chili's Grill & Bar.
In 2012, this sold out event attracted over 300 passionate and innovative leaders representing more than 85 brands including Brinker, Sonic, Applebee's, Joe's Crab Shack and Lonestar Steakhouse. The 2013 event has already attracted brands like Chipotle, CiCi's Pizza, BJ's Restaurants, Buffalo Wild Wings, Raising Canes, Ted's Montana Grill, Union Square Hospitality Group to name a few.
Summer Brand Camp, now in its 4th year, was created by People Report, Black Box Intelligence, Be the Change Revolutions and Digital CoCo - innovative firms focused on the success and profitability of the restaurant industry. The event is supported by sponsor partners including the National Restaurant Association, Nations Restaurant News, Coca Cola, Snag-a-Job and PeopleMatter/PeopleClues.
Registration is still open at a cost of $450 per attendee. Summer Brand Camp is held June 4-6th, 2013 in Dallas Texas at the Westin Park Central Hotel. Sponsorship opportunities are still available. Please contact Melissa Papaleo for more information (Melissa[dot]papaleo[at]prbbi[dot]com).
People Report provides service-sector human capital and workforce analytics for its members on a monthly basis. Its sister company, Black Box Intelligence, provides weekly financial and market data for the restaurant industry. Together they report on over 30,000 restaurant units, one million employees and 35 billion dollars in sales.