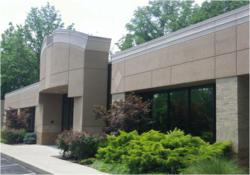 Cincinnati, OH (PRWEB) May 07, 2013
The periodontists at the Ohio Valley Center for Periodontics & Implants are now making permanent tooth replacements possible for patients seeking dental implants in Cincinnati but lacking the jaw bone to support them. With All-On-4 dental implants, only four implants are used to support the denture. This means that if the bone mass is dense enough in four places to support implants, the procedure may move forward without the need for bone augmentation. Dr. Scott Silverstein and Dr. Matthew Parker are able to strategically place the implants in the densest areas. A temporary denture is attached to the implants at the time of surgery, and after integration is complete, the new All-on-4 dental implants will be permanently fused with the jaw bone.
With only four implants being selectively placed, a patient's recovery time is much shorter than if a bone graft were necessary prior to a traditional dental implant surgery. In addition, if each of the teeth in the denture were an individual implant, the cost for the procedure would be much greater. For people who do not want to deal with a drawn-out recovery period or who are looking to reduce the cost of dental implants in Cincinnati, All-On-4 dental implants are a recommended option.
When teeth are missing from the mouth, the jawbone begins a process of deterioration, because the teeth were the stimuli for bone regeneration. If the teeth are not replaced with dental implants, the deterioration may continue until there is no longer enough bone density to hold the implant. Because the jawbone can deteriorate more in one area than another, All-On-4 dental implants may be possible even when other options are no longer viable. More information on the All-On-4 dental implants in Cincinnati is available at http://www.cincinnati-periodontist.com.
Ohio Valley Center for Periodontics & Implants is a periodontal practice offering patients personalized dental care in Cincinnati and Milford Ohio. Dr. Silverstein and Dr. Parker are part of one percent of dental professionals providing the most recent FDA cleared laser procedure for gum disease and periodontal treatment. They are both active members of the American Board of Periodontology and the American Academy of Periodontology. To learn more about Ohio Valley Center for Periodontics & Implants and their dental services visit their website at http://www.cincinnati-periodontist.com and call their Cincinnati location at 513-334-5997 and their Milford location at 513-334-5997.