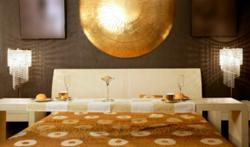 Individual interpretations of a design culture carried out with modern materials gives a fresh twist to history.
San Francisco, CA (PRWEB) May 08, 2013
Contemporary home designers have a wealth of information to draw inspiration for their work. History is a rich source for grand building plans as well as decorative surface patterns. Ancient relics, documents, artifacts and landmarks shed light on the past for the flourishing contemporary design community. One such historic document is the Topkapı Scroll, a 98-foot-long repository of 114 individual geometric patterns for wall surfaces and architecture. Used by artisans for centuries, this document is the blueprint for the design of the Middle Eastern world. This scroll shows how geometric patterns became a design basic in building and surface design for the area's vibrant Eurasian culture.
Today, that same geometric influence is a strong undercurrent for artisans worldwide. This undercurrent showcases a uniquely Eastern way of working in the modern world. Various contemporary artisans are known for unembellished designs with clean structural lines, two-dimensional geometry developed into three-dimensional furniture components. A source for these modern pieces is KindaChic.com, an online home décor and furnishings retailer. The Le Corbusier inspired Fortress sofa, loveseat and club chair have a distinctive style that integrate well with other modern or traditional pieces. Professional tradesmen and university-educated designers that focus on interior furnishings, also rely on the past for a review of form and style. Just as the geometric Turkish designs have influenced the art world, other cultures have been equally influential. Attracted to the timeless, universal qualities of past motifs, jewelry, textile, ceramic and furniture designers have fervently transformed these historic patterns into contemporary pieces. Examples of other cultural influences in contemporary décor can be seen in the exotically styled vases and ceramic wall décor at KindaChic.com. Historic patterns have been adapted to the materials of their times. Marble and stone decorations can be seen today on ephemeral materials like paper and plastic.
Now every homeowner has captured history in their chosen home décor and furnishings. A contemporary home keeps the cultural past alive. Recently, various modern trends tried to step outside of history's influence to develop unique home designs. These trends included exclusively white home interiors; the invention of bright multi-colored shag rugs installed with faux wood paneling; the blending of the residential with the factory into industrial chic. Every design era has stumbling blocks and only the strong designs survive. Cultural styles can co-exist if the details are carefully thought out. Individual interpretations of a design culture carried out with modern materials gives a fresh twist to history.