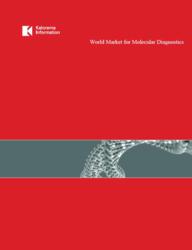 Rockville, MD (PRWEB) May 10, 2013
Tests aimed a molecular target for use in clinical decision-making will produce much faster revenue growth than traditional IVD tests, according to Kalorama Information. Kalorama Information said tests are a 5.2 billion dollar market and will grow 8% each year to 7.6 billion by 2017. That's four times as fast as revenue growth in standard chemistry tests and twice as fast as immunoassay markets, according to the company's IVD market research database. The finding was made in its recent report, The World Market for Molecular Diagnostics, 5th Edition.
The continued discovery of genetic markers with proven clinical utility and the increasing adoption of genetic based diagnostic tests are driving usage. The most attractive growth areas are molecular tests for histological analyses, women's health, infectious diseases, organ transplant testing and oncology. New tests are being launched all the time. Many molecular tests are CE Marked and FDA-cleared and many more are in development.
"These are exciting times for molecular diagnostics," said Shara Rosen, Kalorama Information's lead analyst and author of the report. "It represents one of the fastest growing segments of the diagnostics market. It has emerged fully from research into clinical practice."
Instrumentation now automates many of the sample preparation and assay steps that were formerly labor intensive. There are many new tests, technologies and companies. Competition is becoming very intense. The competition, according to Kalorama is not only between companies and products but also between technologies. There are RNA, DNA and protein patterns, sequencing, tissue arrays, circulating cells and cell-free nucleic acids. The ensemble of these elements create a market for a wide variety of options - multiplexed, rapid, user friendly test platforms such as microarrays, liquid bead arrays and other user-friendly technologies. But the report is careful to note that not all new technologies can be a success - with so many technologies and platforms to choose from, some of the valuable but less aggressively promoted products may fall by the wayside. Also, molecular tests, especially for inherited diseases and some FISH analyses are extremely complex. The tests provide raw data, the interpretation of which sometimes baffle even the most experienced molecular biologists.
"Optimism for the future benefits to modern medicine is tempered by the fact that the big payoff is still a way off," said Rosen. "Finding the genes that can raise the risk of an illness doesn't mean you can prevent the disease. And developing a treatment for it can take years."
One of the major challenges facing molecular testing is getting stakeholders including payers, physicians, researchers and regulators to work together to close the gap between research and clinical applicability. Physician education is another area that could advance the use of molecular assays. Still Rosen feels that the ensemble of these elements create a dynamic, energetic and fast-moving environment for new tests and companies. This chapter provides an overview of the market forces and their impact on molecular tests.
The report, The World Market for Molecular Diagnostics, 5th Edition presents further growth rates for sub markets within molecular testing, regional breakouts of revenue figures, important strategic conclusions for companies in the market, profiles of companies in the market.
The report can be found at: http://www.kaloramainformation.com/Molecular-Diagnostics-Edition-7295219/.
About Kalorama Information -- Kalorama Information, a division of MarketResearch.com, supplies the latest in independent medical market research in diagnostics, biotech, pharmaceuticals, medical devices and healthcare; as well as a full range of custom research services. We routinely assist the media with healthcare topics. Follow us on Twitter, LinkedIn and our blog.