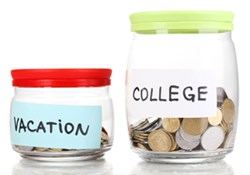 Options like taking courses online or creating a plan for transfer aren't for everyone. But neither is putting off retirement, taking on a second job, or cancelling vacations.
Tiffin, Ohio (PRWEB) May 08, 2013
As rising college costs continue to plague students and families across the U.S., a new survey released this week shows that parents are more likely to consider making sacrifices at home such as putting off retirement or cutting back on dinners out, instead of exploring ways to save on the cost of college itself. The survey, sponsored by Ivy Bridge College of Tiffin University, an online college that helps students create a cost-effective plan for their college education, included responses from nearly 900 parents who had a student planning to enter college in 2013 or 2014.
An overwhelming 90 percent of parents said that the overall process of planning and paying for college was stressful on the entire family, while 87 percent said that cost affected which school their student decided to attend. Parents funding more than one college education were especially impacted by rising tuition and many felt forced to reevaluate their finances—30 percent planned to cut back on "extras," like vacations and eating out at restaurants, and almost 20 percent admitted to delaying retirement. Families were also considering other ways to pay for their students' education:

72 percent were willing to co-sign on their child's student loans
29 percent of parents expected their student to cover more than a quarter of annual college costs
Almost 30 percent would consider having their student live at home to reduce total costs
Despite the cited importance of cost in decision-making, most parents answered that they were planning to cut back on family expenses to find ways to save, while fewer were exploring ways to actually reduce the cost of their student's education.
Only 17 percent would recommend their student take summer courses to graduate earlier
34 percent considered having their student attend a two-year community or online college then transferring
10 percent hadn't considered any options to reduce the cost of their student's degree at all
"I was surprised to see so many parents planning to make major sacrifices, even delaying retirement, before thinking about other options that could actually reduce the cost of their child's college education and future debts from student loans," said Jennifer Ruggiero, a college admissions and career counselor at Ivy Bridge College. "After hearing what families are saying, it seems like many just stick with what they know, tightening budgets, rather than examining the options that have the potential to make college more affordable."
One reason parents may not be aware of all their options is that they're not talking with counselors or advisors about rising college costs, and instead are seeking answers from their own network. When asked what resource they found most helpful when making critical decisions about choosing and paying for college, 28 percent answered friends and family and 31 percent said the internet and books. Only 21 percent mentioned talking to a school counselor.
"It's great to do research on your own and I always consult my friends and family on important decisions," said Ruggiero. "But I'd hate for families to miss out on opportunities because they dismissed an idea before looking into it more. That's how counselors can help. Attending a two-year school or taking extra courses over the summer may call for more planning and foresight, but these kinds of options can dramatically reduce the cost of a student's overall degree program. In the case of transferring, students can sometimes reduce their costs as much as $64,000.00 depending on their end school."
And she should know. At Ivy Bridge College, the institution that sponsored the survey, counselors like Ruggiero help students explore ways to save on their overall education by outlining a plan for two- to four-year college transfer. As part of its services, the online college offers a robust college mentoring program through success coaching and counseling that helps students create a path for their education that works with their financial situation and degree and career goals.
When advising on how to create a successful plan for college, Ivy Bridge experts like Ruggiero recommend that parents and students consider the following:
Transfer Options and Partners
Choosing to start at a two-year college then transferring to finish a bachelor's is a time-honored way to save on the total cost of a college degree. But what many parents and students don't know is that almost every school, even top-tier programs, have established relationships with two-year community and online colleges that make it easier for students to transfer from one school to the next. Students who know they want their end degree to come from a specific institution should always check the school's website or talk to the counseling office to see if there are transfer partners either in the area or online. Many schools even offer dual-admission "2+2" programs where students fill out one application and enroll in both schools at the same time. Transferring is also a great option for students whose grades or SAT scores may be just below the requirements for the school they're interested in. By attending a two-year program first, they have a chance to bring up their grades and are more likely to be accepted as a transfer student than as an undergraduate.
Class Size and Availability
College enrollment in the U.S. is at an all-time high and many colleges are taking on more students than ever before. As a result, classes (and especially the general education courses students take their freshman and sophomore year) may become overcrowded and even unavailable. This can cause and increase in tuition for students who are forced to take courses that don't work towards their degree in order to stay full-time and receive financial aid. Additionally, students who need to meet popular prerequisites and requirements before they can move forward with their program may find themselves having to pay tuition for extra terms in order to get the course they need to graduate within four years. By checking out a school's class sizes and looking at whether or not there are waitlists for popular courses, parents and students can get a better idea of whether or not they'll be affected by overcrowding.
Online Courses and Blended Options
Online education has come a long way in a short period of time and now nearly every institution, including larger state schools and private institutions, offer classes and entire degree programs online. Online courses generally cost less than their in-person counterparts and can provide opportunities for students to save by living at home, eliminating commuting costs, and working as they pursue a degree. Online courses may also provide more options for students to get into popular courses and can make it easier to take more classes per term and speed the path to a degree. Options vary from school to school, so when considering a four-year or community college program it's good to see whether online courses are available and if there's a cost difference. If students are considering a fully online college like Ivy Bridge, it's important to make sure they talk to the admissions department to ensure that the online learning environment and course schedule will work for them. There's a myth that online learning is easier than taking courses in person, but online programs are just as rigorous as in-person courses and there are still deadlines for assignments and tests students need to be prepared to meet.
"Options like taking courses online or creating a plan for transfer aren't for everyone," explained Ruggiero. "But neither is putting off retirement, taking on a second job, or cancelling vacations. Families and students have a lot more choices to make college more affordable than they think."
Those looking to learn more about Ivy Bridge College of Tiffin University and their online associate degree and college transfer program can visit http://ivybridge.tiffin.edu/college-costs-survey or talk to an advisor at 877-611-4922.
About Ivy Bridge College
Ivy Bridge College of Tiffin University is an online college with a long tradition of excellence. As an online branch of Tiffin University of Ohio, a private institution founded in 1888, Ivy Bridge provides students with a direct path and support services to earn an associate degree online, then transfer to one of over 150 public and private four-year partner institutions across the United States. Created through a joint venture agreement with Tiffin University and Altius Education, Ivy Bridge offers students from all walks of life the college mentoring, academic foundation, engaging online learning experience, and college connections they need to successfully graduate with their bachelor's degree and pursue a rewarding career.