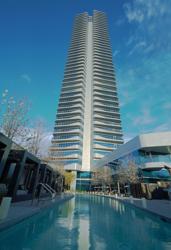 Buyers who were previously unable to get into the market because they could not afford a 25 percent down payment, now have the opportunity to purchase at The Martin
Las Vegas, Nevada (PRWEB) May 08, 2013
The Martin received final Fannie Mae approval last week after surpassing 70 percent sold, making it the only high-rise condo tower in the state to offer a 10 percent down financing option to primary residents.
Las Vegas home buyers will now be able to take advantage of even more attractive mortgage rates and can choose from a range of the most competitive financing options on the market, including 10 percent down payments offered by on-site lenders including Chase and Wells Fargo.
"Buyers who were previously unable to get into the market because they could not afford a 25 percent down payment, now have the opportunity to purchase at The Martin," said David Sotolov, senior vice president of iStar Residential, owner of The Martin. "iStar has been working diligently for months to make The Martin residences more accessible for buyers looking to take advantage of the affordability of Las Vegas real estate and historic low interest rates being offered. With our Fannie Mae approval, we hit this goal almost a year earlier than anticipated. It's a substantial vote of confidence for the strength and success of our property. We are now not only the fastest-selling high-rise in Las Vegas, but we also have the most affordable loan program in the state."
The Fannie Mae approval process evaluates a project on numerous acceptance guidelines including the number of units sold or under contract, recent velocity of sales, percentage of owner-occupied units and a homeowner association's solvency and stability. Having the approval makes the lending process easier and much more affordable for potential buyers.
"Affordable financing for high-rises is something that hasn't existed in Las Vegas for nearly six years. The introduction of our new financing options is an open invitation for many more home buyers to qualify to own a luxury high-rise residence and seize this rare opportunity. It's another beacon of confidence and a sign of stability in the Vegas market. We expect more local, full-time residents to further grow the community. The path to entry has been widened and it really changes the playing field of what buyers can afford," said Sotolov.
The Martin is the fasting selling high-rise residential tower in Las Vegas, selling over 100 residences last year alone, and reaching the 70 percent sold milestone. Two-bedroom residences are priced from the mid $300s to over $1.5 million. Seven penthouses grace the top floors and are priced up to $7 million.
For more information about The Martin, call 702-425-3801 or visit http://www.themartin.com. The Martin is located at 4471 Dean Martin Drive, with entry off Jerry Lewis Way.
About The Martin
Located one-block west of the Las Vegas Strip and steps from the heart of CityCenter, The Martin is a 45-story high-rise residential tower offering unparalleled views, five-star services and amenities and exclusive access to the best of what Las Vegas has to offer. The Martin features 374 one- and two-bedroom modern, spacious residences, all of which have views of the Strip, designer finishes, state-of-the-art technology and spacious floor plans, ranging in size from 1,035 to 1,962 square feet. Seven spectacular penthouses, from 3,653 to over 13,000 square feet, grace the top floors. A $3 million renovation was recently completed by The Kor Group, the developers and design team behind The Viceroy Santa Monica and The Viceroy Anguilla, and award-winning landscape architect Mark Tessier. For more information, visit http://www.themartin.com or call 702-425-3801.
About iStar Residential
iStar Residential is one of the largest investors in luxury condominium, multifamily and master-planned residential developments throughout the United States, having financed and invested in $10 billion of residential projects since 1993. iStar Residential's portfolio has included interests in over 18,000 condominium units in the nation's top markets and 65,000 acres in master planned communities having the potential for an estimated 50,000 single family and multifamily units. The Company's unique, fully-integrated platform extends from property entitlement and development to construction, bridge and long-term financing through asset servicing, property and portfolio management. iStar Residential is a division of iStar Financial, a $7 billion finance and investment company focused on the real estate industry and traded on the New York Stock Exchange under the symbol "SFI." For more information, visit http://www.istarresidential.com.
About The Kor Group
Founded in 1999, The Kor Group is a fully-integrated real estate investment, development and management firm that also works with third-party clients to deliver a comprehensive package of advisory services. Kor has been recognized in the industry as a leading innovator in the design and development of lifestyle properties. Its track record demonstrates its expertise in bringing new life to an investment, often through design coupled with extensive rehabilitation and repositioning. By fusing creative design with an agile investment and development discipline, Kor has amassed a portfolio of high performing assets and has built a signature brand translatable across its properties. Since inception, Kor has acquired and developed hospitality, residential, and office assets valued in excess of $2 billion. Kor was also the force behind the origination and development of the renowned Viceroy hotel brand, whose immense success led to the spin-off of its hotel management division, Viceroy Hotel Group, in 2008. Today, Kor maintains the same commitment to creative design and distinctive branding to bring enhanced value to its investments and the investments of its third-party clients. Visit http://www.thekorgroup.com.
###