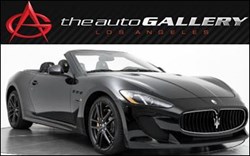 The GranTurismo MC Stradale has been a favorite of Maserati fans and car enthusiasts the world over, for years. - The Auto Gallery spokesperson
Calabasas, CA (PRWEB) May 09, 2013
The Auto Gallery Maserati is pleased to announce the availability of the newest GranTurismo MC Stradale convertible, which features remarkable new updates to styling and functionality.
The new model of the MC Stradale debuted in Geneva at the end of February, after a period of great anticipation, and crowds were not disappointed by the newest offerings from Maserati. Prior to the redesign, the MC Stradale had been manufactured exclusively as a two-seater vehicle, but the new design offers ample space with the addition of rear seating. The redesign of the car offers buyers the opportunity to enjoy the sportiness that is expected of Maserati, along with the convenience of a coupe.
"The GranTurismo MC Stradale has been a favorite of Maserati fans and car enthusiasts the world over, for years," said a spokesperson for The Auto Gallery. "The new design features build on this popularity and while the best capabilities and design features of the car remain the same, the new additions and changes make the car even more unbelievable."
Similar to the two-seater version of the car, the redesigned MC Stradale is modeled after the racing version, but with the ability to provide seating for up to four people. Exterior features taking center stage with the new design include a new carbon fiber bonnet and 20" alloy rims. The interior of the car, aside from offering maximum seating capacity, also now boasts a revamped design and the use of new materials.
Although the new design offers optimum seating space, it doesn't sacrifice on power and performance. The GranTurismo MC Stradale features the same V8 engine used in the two-seater model, along with an MC Race Shift 6-speed manual gearbox. With these features, the GranTurismo provides the capability to reach speeds of up to 188 MPH. Additionally, the engine design was altered to allow for better fuel efficiency and reduce consumption, as well reduce emission levels.
About the Auto Gallery
The Auto Gallery Maserati is the premier Maserati dealership in Southern California. This top-notch Maserati dealer also offers Maserati parts and repairs, used Maseratis for sale and a number of Maserati lease specials. The Auto Gallery is located in Calabasas, California and can be contacted by calling (888) 648-0930. For more detail please visit, http://www.theautogallerymaserati.com/.