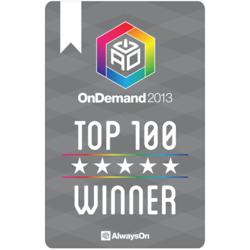 The world of the cloud is beginning to live up to its promise of expanding and enhancing almost every sector of the technology world.
San Francisco, CA (PRWEB) May 08, 2013
Aria Systems, the expert in cloud-based subscription billing, today announced that it has been selected by AlwaysOn as one of the OnDemand Top 100 winners for 2013. Aria Systems was selected by the AlwaysOn editorial team as well as industry experts spanning the globe based on a set of five criteria: innovation, market potential, commercialization, stakeholder value, and media buzz.
"The world of the cloud is beginning to live up to its promise of expanding and enhancing almost every sector of the technology world. Public, private, and hybrid; the cloud infrastructure companies that can provide the most robust, always-on performance are the ones that are propelling us into a completely new digital age," says Tony Perkins, founder and editor of AlwaysOn.
The OnDemand 100 winners were selected from among hundreds of other technology companies nominated by investors, bankers, journalists, and industry insiders. The AlwaysOn editorial team conducted a rigorous three-month selection process to finalize the 2013 list. Aria Systems and the OnDemand Top 100 companies will be honored at AlwaysOn's OnDemand event on May 20th, 2013, at Hewlett-Packard's Executive Briefing Center in Palo Alto, CA.
A full list of all the OnDemand 100 winners can be found on the AlwaysOn website at:
http://aonetwork.com/announcing-the-2013-ondemand-100-top-private-companies/
"We are delighted to be recognized by AlwaysOn for our innovation two years in a row," said Tom Dibble, CEO, Aria Systems. "Over the past several years, there has been a dramatic increase in the number of businesses launching recurring revenue initiatives with the goal of expanding their market and increasing customer satisfaction. With Aria's cloud-based platform, these businesses can be up and running quickly with the flexibility to easily adjust their business model as they grow."
Aria uniquely combines high-performance product and service monetization with subscriber and channel management to help companies get their products swiftly to market, grow and maximize recurring revenue and increase customer lifetime value. Earlier this year, Aria also was named a finalist for the 2013 SIIA Software CODiE Awards.
Please consider downloading the Six Key Buying Considerations e-Paper or the Anatomy of Recurring Revenue Model whitepaper. Visit http://www.ariasystems.com or call 1-877-755-2370.
About Aria Systems
Aria Systems delivers the full power of subscription commerce to transform business by creating new opportunities, improving customer relationships and providing more revenue predictability. The Aria Subscription Billing and Management Platform was chosen by brand name companies such as Pitney Bowes, AAA NCNU, Experian, Red Hat, Ingersoll Rand, EMC, VMware, and HootSuite to evolve their company's subscription businesses while delivering outstanding customer experiences.
About AlwaysOn
AlwaysOn is the leading business media brand connecting and informing the entrepreneurial community in the Global Silicon Valley. Founded by Red Herring founding editor, Tony Perkins in 2003, AlwaysOn's mission is to continue to lead the industry by empowering its readers, event participants, sponsors, bloggers, and advertisers like no other media brand.