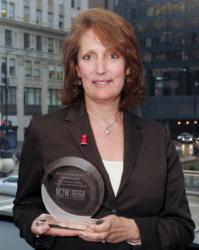 Chicago, IL (PRWEB) May 08, 2013
On behalf of WomenHeart: The National Coalition for Women with Heart Disease, Lisa C. Clough, MS Ed., CHES, Director, Communications & Marketing accepted the "Full Circle Award" at the 4th M2W®-HW™ – The Marketing Health & Wellness to Women Conference, April 18, 2013, Hard Rock Hotel, Chicago. According to Nan McCann, M2W®-HW™ producer, The "Full Circle Award" is presented to a brand or organization who has best demonstrated how the conference has positively impacted their marketing-to-women strategies and campaigns."
"WomenHeart's mission is to improve the health and quality of life for women living with or at risk of heart disease and to advocate for their benefit," explained McCann. "In February of this year, WomenHeart launched the first national heart health initiative for Spanish speaking women in the United States."
"While heart disease is the leading cause of death for all women in this country, Hispanic American Women are at an even greater risk. The successful launch of this initiative evolved in part because in 2012 WomenHeart attended M2W®-HW™. It was there she met Jackie Bird, CEO/CIO of Redbean Society, experts in delivering the U.S. Hispanic market through Latina Women. Jackie's presentation focused on "Health, Wellness and the Latina Woman: Finding the Cultural Link." Working with Jackie and Redbean Society, WomenHeart was able to add the cultural nuances to their program to help make WomenHeart's goal a reality and a truly helpful resource for Latina Americans."
"It is inspiring to see so many companies focusing on marketing health care to women and recognizing a woman's role in the health care decisions of their family," said Lisa Clough. "This conference provided WomenHeart a great opportunity to connect with a key partner to launch the first national heart health education program for Hispanic-American women."
About M2W®-HW™
Part of Women Mean Business!™ Week, M2W®-HW™ is the world's premier conference on marketing health and wellness to women. Since its founding in 2009, the event has been attended by hundreds of senior-level brand managers and marketing executives from Fortune 500 companies representing major consumer product and service categories in the health, wellness and pharmaceutical industries.
The M2W®-HW™ program annually features keynotes, general sessions, workshops, receptions and special events. Highlights include case studies and how-to sessions on topics such as media, creative, research, packaging, purchasing habits and point-of-sale interaction.
Sponsors for the 2013 conference included Associate Sponsors: United Healthcare, WebMD, Society for Women's Health Research, Express Scripts, Iron Girl, Spirit of Women and Mayo Clinic Center for Social Media; Affiliate Sponsors: WomenHeart, Bcureful, Healthy Initiatives Foundation, and American Association of Caregiving Youth; and Showcase Sponsors: Lifescript, Women's Health Foundation, KC Health Communications, Pluggz, Snippies, Paramount Market Publishing and Carolina Pad. M2W®-HW™ is wholly owned, managed and produced by PME® Enterprises, LLC. 912 Silas Deane Highway, Suite 101, Wethersfield, CT 06109.