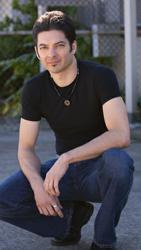 Anyone can bet that an average-looking guy who leaves a party with a woman on each arm knows how to work the information covered by the top seduction tips.
San Mateo, CA (PRWEB) May 25, 2013
Men who are striking out with women can rest easy now that the best seduction tips in the world can all be found in one place, says Dating Expert Carlos Xuma in his new report.
"The ability to seduce a woman is a true and tested art form that goes back for centuries," Xuma says. "The top ten seduction tips found in this report are nothing new, but this is the first time they are compiled in one place and explained in such an intuitive and easy to understand manner."
Men should be not be ashamed to study these tried-and-true methods, Xuma assures.
"Listen, no guy on this planet was born knowing all the best ways to seduce a woman," says Xuma. "Some of this knowledge has been passed down to men over the centuries. The smartest guys are the ones who learn these seduction tips early and then can work on perfecting them for the rest of their lives. These are the guys who have any woman they want. They are the ones who can pick and choose the perfect women for them."
Often, other guys see this and wonder exactly what this guy has that they don't.
"That's an easy answer," Xuma says. "These are the guys who have taken to time to study and learn what women want and then use every opportunity they can to improve on that knowledge. These are the guys who have the love of women everywhere, including and maybe even especially ex-girlfriends. They are the ones who leave a relationship better than they began it and part ways with honesty and integrity. These are the guys who nobody can say a bad word about."
Xuma's new report on the top ten seduction tips can teach any man how to please a woman.
"It doesn't involve any special skills or abilities," Xuma says. "What it does involve is a little bit of knowledge and then time spent to learn seduction tips. But the pay off will last for the rest of a guy's life."
According to the report, anyone who looks at an average looking guy who walks into a party and then leaves with women on each arm can bet that this guy knows the most popular tips and knows how to make them work for him.
"It's not rocket science, but it does take a little bit of knowledge and energy," Xuma says.
Carlos Xuma has been a dating expert and attraction adviser for more than 10 years. Xuma is the author of numerous articles and books, including The Bad Boy Formula, Secrets of the Alpha Male, and the Girlfriend Training Program. Xuma has appeared on ABC and CBS television and Playboy radio. He has spent years teaching hundreds of men important dating skills, such as how to flirt with girls, how to seduce a woman, seduction tips, and how to gain confidence with women.
For more information, visit Carlos Xuma's website at http://www.carlosxuma.com.