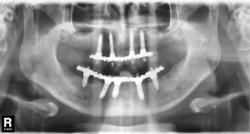 Smile with confidence
Hove, East Sussex (PRWEB UK) 10 May 2013
East Sussex dental practice Brighton Implant Clinic recently installed a new cloud-based database programme in its clinics, further demonstrating its commitment to providing world-class patient service. The database system is built on Filemaker and enables clinical staff to review, add, or modify patient data using a tablet or even a smartphone.
"We're excited about our new database system and the flexibility and efficiency it gives us in treating our patients. We are now more technologically equipped to serve the needs of our patients than ever before," says Dr. Bruno Silva, Principal Dentist at Brighton Implant Clinic. "Already we're seeing marked improvements in the time we take to treat our patients, and the accuracy with which we treat them."
In addition to data review or modification via a tablet or smartphone, the database program enables clinical staff to review patients' dental medical history while they are talking to them about their needs and what procedures will satisfy their needs. Details about each treatment a patient undergoes and how long the treatment took are added to the system. This data capturing allows Brighton Implant Clinic to audit its results and then adjust or adapt its services to even better fit its patients' needs. Already the practice is reporting greater accuracy, efficiency, and flexibility in its services.
"Our staff members are already highly regarded for their experience, ability, and friendliness, but this system has lessened the time it takes to service our patients and the precision with which they carry treatments out," says Silva. "Our new database programme enables us to more fully live out our commitment to offering our patients quality services of the greatest caliber, efficiency, and effectiveness possible."
Brighton Implant Clinic has three clinic locations located in Hove, Halisham, and Brighton, and is a two-time award winner of the Private Dentistry Awards. The practice's staff has collective experience of decades of implant placement and treatment services, and is internationally reputed for its world-class patient care and top-quality dental implant and treatment services, with patients venturing from as far as Australia and the United States for treatment. Please visit http://www.brightonimplantclinic.co.uk to learn more about the practice's services and schedule a free initial consultation.