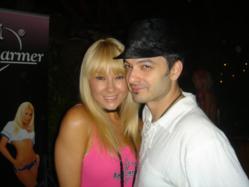 Rock solid self-confidence is ultimately the key in how to attract women.
San Mateo, CA (PRWEB) May 30, 2013
When it boils down to it, there really is only one trait that is necessary to attract women, but that one characteristic is not always easy to adopt, says Dating Expert Carlos Xuma in his new report.
"Men who are successful day in and day out attracting women without fail are inevitably the guys who have loads of self confidence," Xuma says in his report. "Having a healthy dose of self-esteem is way more important than having good looks, or a killer car, or sweet apartment."
That's not to knock any of those other things, says Xuma, because sometimes the outward manifestations of success are easy ways for a woman to spot traits like ambition, and drive and dedication - and not because they are the most important characteristic needed to attract women.
"A heap of self-confidence can make up for a huge lack in many of the other areas women look at when they determine whether they are attracted to a guy or not," Xuma says. "Guys who might be considered unattractive in a photograph can have so much charisma in person due to self-esteem that they end up pulling girls left and right. It is proven over and over again that confidence trumps every other factor in trying to attract women."
On the other hand, Xuma points out in his report, a guy who seemingly has it all - good looks, money, a nice car, a good job and a sweet pad - can sometimes fail miserably when it comes to attracting women.
"If that guy is insecure, nothing else matters," Xuma says. "Now, that rarely happens because it is funny how self esteem works. The way self confidence is built is usually by achieving goals. That is why you rarely see an insecure guy who has worked for (and earned) his outward assets, such as a nice car and good job."
Although, a guy who was born with good looks and then handed all the things that money can buy can be insecure or lacking in self-esteem because he didn't achieve those things, was only handed them, Xuma says.
"But a guy who has worked hard for something and achieved a goal, be it a black belt in karate, or a position as a CEO - well, that guy is going to be oozing self-confidence, and that ultimately is the most important trait in how to attract women," Xuma says.
Carlos Xuma has been a dating expert and attraction adviser for more than 10 years. Xuma is the author of numerous articles and books, including The Bad Boy Formula, Secrets of the Alpha Male, and the Girlfriend Training Program. Xuma has appeared on ABC and CBS television and Playboy radio. He has spent years teaching hundreds of men important dating skills, such as how to attract women, how to seduce a woman, and how to gain confidence with women.
For more information, visit Carlos Xuma's website at http://www.carlosxuma.com.