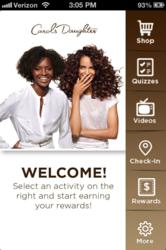 "Carol's Daughter is proud to be leading our industry by filling this overlooked, highly in demand space. Our app will let you shop, get advice, and interact with the brand in a cutting edge, personal way." -Richard Dantas, Carol's Daughter President
New York, NY (PRWEB) May 08, 2013
Beauty and hair care brand Carol's Daughter has launched its innovative new mobile app. Users who download the app to their smartphone will be able to access monthly quizzes, helpful instructional beauty videos, instant purchasing options, and a convenient store location finder. Best of all, Carol's Daughter fans can earn instant rewards points towards their favorite products, just by using this interactive new tool.
Carol's Daughter President Richard Dantas is thrilled to bring the beloved brand to women's most valued, "it" accessory, their phones. "The fashion industry has been creating mobile apps for years now—almost every leading designer or magazine has one—but the beauty industry has been slow to get on the bandwagon," says Dantas. "Carol's Daughter is proud to be leading our industry by filling this overlooked, highly in demand space. Our app will let you shop, get advice, and interact with the brand in a cutting edge, personal way."
Whether you're a Blackberry fan, iPhone enthusiast, or early Google adopter, this beautifully designed and highly functional mobile app puts Carol's Daughter expert stylists and cult favorite products right at your fingertips. The quiz section will serve as a pocket personal shopper, guiding you to customized product selections—available for purchase at the click of a button—based on your individual responses. Users can also watch regular videos to learn how to style and care for their hair with insider advice from top authorities.
A state of the art geolocation page will guide customers to the nearest Carol's Daughter store or Sephora, Ulta, Macy's, and Belk locations that carry the brand, where they will be able to "check in" online. To reward customers for engaging with the app, points can be earned for downloading the app, watching a video, or checking into a store. After reaching 100 points, the app will provide a $10 promo code, good for redemption at any Carol's Daughter store or online. Now, access to Carol's Daughter's beloved, efficacious formulas will never be father than your purse or pocket.