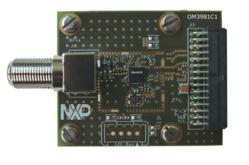 Eindhoven, Netherlands and Caen, France (PRWEB) May 08, 2013
NXP Semiconductors N.V. (NASDAQ: NXPI), the market leader in silicon tuners with over 700 million units sold, today announced the TDA18275 – its latest high-performance silicon tuner for worldwide terrestrial and cable TV reception. The TDA18275 features a fully integrated RF tracking filter as well as an integrated FM filter, and is available in a small 5-mm x 5-mm 32-pin HVQFN package, significantly reducing bill of materials costs. With an ultra-low noise figure of 3.5 dB and excellent return loss, the TDA18275 provides high sensitivity combined with enhanced immunity to analog and digital ACI (adjacent channel interference), as well as stronger immunity to LTE and Wi-Fi interference. Further, the TDA18275 hybrid silicon tuner operates from a single 3.3V power supply while consuming only 750 mW. Now sampling with qualified customers, the TDA18275 is scheduled for volume production in July 2013.
"For TV set manufacturers replacing older can tuners with silicon tuners, NXP offers the most cost-effective high-performance silicon tuner solutions, optimized for direct on-board integration. With the TDA18275 hybrid silicon tuner, we continue to raise the bar in power efficiency and robustness, while reducing overall application size and BOM costs," said Fabrice Punch, international product marketing manager, NXP Semiconductors. "NXP's expertise in RF and analog and digital TV standards, combined with our strong manufacturing supply chain, positions us as a highly reliable partner – now supplying silicon tuners to 13 of the top 15 TV brands in the world."
Links

About NXP Semiconductors
NXP Semiconductors N.V. (NASDAQ: NXPI) provides High Performance Mixed Signal and Standard Product solutions that leverage its leading RF, Analog, Power Management, Interface, Security and Digital Processing expertise. These innovations are used in a wide range of automotive, identification, wireless infrastructure, lighting, industrial, mobile, consumer and computing applications. A global semiconductor company with operations in more than 25 countries, NXP posted revenue of $4.36 billion in 2012. Additional information can be found by visiting http://www.nxp.com.
Forward-looking Statements
This document includes forward-looking statements which include statements regarding NXP's business strategy, financial condition, results of operations and market data, as well as other statements that are not historical facts. By their nature, forward-looking statements are subject to numerous factors, risks and uncertainties that could cause actual outcomes and results to be materially different from those projected. Readers are cautioned not to place undue reliance on these forward-looking statements. Except for any ongoing obligation to disclose material information as required by the United States federal securities laws, NXP does not have any intention or obligation to publicly update or revise any forward-looking statements after NXP distributes this document, whether to reflect any future events or circumstances or otherwise. For a discussion of potential risks and uncertainties, please refer to the risk factors listed in NXP's SEC filings. Copies of NXP's SEC filings are available from the SEC website, http://www.sec.gov.