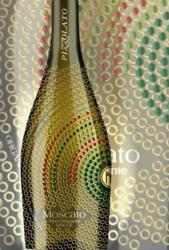 Grants Pass, OR (PRWEB) May 09, 2013
In celebration of National Moscato Day, Thursday, May 9, Natural Merchants, LLC, based in Grants Pass, OR and Cartagena, Spain, introduces Pizzolato Moscato made with 100% organically grown grapes. This very special "dolce" (sweet) white sparkler is perfect for spring and summer sipping, for a special celebration, such as Mother's Day or Father's Day, paired with dessert or a pre-dinner toast. Its low alcohol content (7%) makes it perfect for an anytime aperitif. The clever and colorful bottle design and label also make this wine great for gift giving and to display proudly on the table.
The 100% organically grown Moscato grapes are grown by La Cantina Pizzolato in the Venezia DOC region, with the vineyards situated on the plains and hillsides near the Piave river. The grapes are carefully harvested by hand during the end of August. The wine's vinification process includes a soft pressing, then the grape must remains in steel pressurized tanks, utilizing the Charmat method of secondary fermentation for 2 months, reaching up to a pressure of 2.5 atm.
The resulting wine has a penetrating aroma, fragrant with hints of sage and peach. The wine has a good balance of fruit flavors with harmonious acidity and just the right amount of frizzante effervescence. Only Indigenous Yeasts are used in production and the wine is Suitable for Vegans with no animal byproducts used in the fining process. Pizzolato Moscato was recently awarded a Silver Medal in the prestigious 2013 Sunset International Wine Competition. The suggested retail price is $12-14 and it is available in Whole Foods nationwide as well as other fine retail locations.
Moscato is the 5th best selling wine in the United States. According to Decanter.com, "Moscato now commands a 6% share of wine bought in retail chains, where it is more popular than Sauvignon Blanc and only two percentage share points behind Pinot Grigio." Some credit a surge in sales over the past two years to the Millennial buyer who finds it a more accessible bubbly, and others who may have also been influenced by mentions of Moscato in recent popular rap songs.
About the Winemaker
Pizzolato Moscato was developed by Settimo Pizzolato, a 5th generation winemaker. La Cantina Pizzolato estate is located in the rich and flourishing countryside in the north of Treviso, Italy. La Cantina Pizzolato produces Italy's number-one selling Organic wines.
La Cantina Pizzolato is one of many fine organic labels presented by Natural Merchants, LLC, one of North America's leading Importers and Distributors of the finest natural and organic wines direct from the European and Mediterranean regions. The company continually strives to bring the highest quality and most innovative organic wines to the U.S. market.
The Natural Merchants Selections program highlights more than 150 carefully selected wines from Spain, Italy, Austria, Germany, France, Greece and Portugal, grown in unique organic terroir, each vineyard producing clean, fresh superior wines that are both good for the earth and tantalizing for the palate.
For more information, visit http://www.naturalmerchants.com.