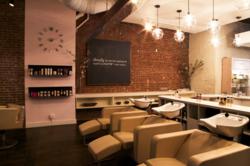 "I'm so excited about this salon. It has always been part of my dream to have a hair salon that took in any woman, despite her texture and state of her hair, and transformed her to have her best hair ever!" -Lisa Price
New York, NY (PRWEB) May 09, 2013
Carol's Daughter launches its first hair salon, Mirror, a new concept in educational hair care. Mirror, located at the Carol's Daughter Flagship store in Harlem, focuses on getting clients hair to its healthiest state via a series of mandatory consultation tests, evaluations, teachings, and in-salon and at-home care regimens. Founder Lisa Price, partnered with legendary healthy hair expert Robin D. Groover from Atlanta, Georgia, for the salon. Groover brings some 20 years of hands-on experience to Lisa's desire to spread her healthy hair message.
As the leader in hair and scalp health, Carol's Daughter has given women everywhere the tools they need to achieve their most beautiful hair by offering a range of carefully formulated shampoos, conditioners and styling treatments made with natural ingredients. The new salon will be an extension of the Carol's Daughter beauty philosophy, which goes beyond focusing on the aesthetics to emphasize the importance of nourishing hair from root to tip in order to ensure optimal health. By partnering with Groover, who has more than 20 years of experience as an entrepreneur, chemical-damage expert, product research and developer, and professional stylist, Mirror, the Hair Salon at Carol's Daughter will not only provide traditional services, but will also be able to educate its client base.
"I believe, at the core, that everyone has beautiful hair," says Groover. "It's learning how to take care of your unique hair. That's my goal. Everyone deserves to learn."
The consultation process includes four tests that track the client's scalp health, porosity, density and elasticity. The salon will provide shiatsu head massages to promote healthy blood flow to the scalp and steam therapy, an innovative technique that uses steam to open pores on the scalp so that hair is more accepting of treatments. All heat styling will use only ionic heat, which promotes healthy hair and eliminates frizz through the use of negative ions.
Mirrors are a focal point in the salon, often positioned so that the stylist can comfortably teach the client how to track scalp and hair health, learn new application and styling techniques, and more. The "rearview" mirror at the shampoo bowls are designed to introduce the client to special cleansing and conditioning techniques tailored to their texture to emulate at home. Clients will receive tailored product recommendations that will enable them to achieve and maintain healthy hair and scalp at home, as well as personalized hair care advice and guidance that they won't be able to find at any other salon.
"I'm so excited about this salon," says Price. "It has always been part of my dream to have a hair salon that took in any woman, despite her texture and state of her hair, and transformed her to have her best hair ever!"