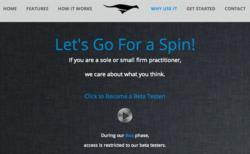 Our digital tools for practice management enable attorneys to reduce their overhead and stay organized, without having to change their entire business structure.
Chicago, IL (PRWEB) May 08, 2013
Velawsity, the cloud-based digital lawyer tool that promises to change the way lawyers manage their clients and practices, is now accepting applications from attorneys who would like to test out the software's features. Created by lawyers for lawyers, Velawsity supplements a law practice by offering seamless and secure attorney-client communication modules, as well as instantaneous digital engagement and conflict checking.
To start, the first round of beta users will be limited to only 50 attorneys who have their own independent practices, and preference will be given to those who live in major cities. Recent law school graduates who are just starting to build their own client list are also desired. Those interested in applying to be a Velawsity beta tester can go to the Velawsity website, click on "Get Started" and then follow the link to create an account. Users are also encouraged to like Velawsity's Facebook page for a chance at winning an iPad Mini.
"Velawsity's mission is to help sole practitioners manage their law practices in the most effective and efficient way possible," says Karn Kerkonian, co-founder of Velawsity. "Practice management software is readily available -- but there are some simple tools that are much needed and missing from the legal tech options currently on the market. Our digital tools for practice management enable attorneys to reduce their overhead and stay organized, without having to change their entire business structure."
Attorneys will find that incorporating Velawsity into their practices is a seamless integration – unlike current cloud practice-management solutions that require lawyers migrate their entire practices to the software. Velawsity also promotes ease and efficiency of client communication.
"The legal profession must keep up with technological innovation and the expectations of today's client," says Kerkonian. "Emails, text messages, instant messages, pings, as well as Facebook chats are all becoming acceptable means of communication between lawyer and client, yet they lack the security and simplicity necessary to meet general ethical and malpractice expectations. In comes Velawsity."
Velawsity was designed specifically for sole practitioners who are concerned about limiting their liability when it comes to things like conflict checking, signed engagement letters and other annoying - but crucial - aspects of doing your due diligence. Many recent law grads are well prepared to handle the courtroom, but few are equipped with the skills necessary to run their own business. Velawsity helps make entrepreneurship easier than ever for lawyers who want to break out on their own.
"We've all seen the statistics about recent law school grads," says Rudy Minasian, one of Velawsity's founders. "There aren't enough jobs to go around at large firms, and many young attorneys choose to go the entrepreneurial route. Velawsity will help them to start off on the right foot. Attorneys don't have non-billable time to waste on administrative tasks and the necessary legal hoops we all have to jump through whenever a new client is signed. And it's not just easier for the lawyers, but also for their clients."
The founders of Velawsity also have a secondary goal: to help break down the barriers to entry into private practice. Lawyer input has been leveraged at every stage of the development process thus far, and the result is a product that is driven by attorney intuition -- not learned through hours of expensive webinars or seminars.
Following Velawsity's successful launch at the ReInvent Law conference, esteemed legal media such as Law Technology News, Legal IT Insider and Chicago Daily Law Bulletin showed early support for its ingenuity. Spots are already limited, so lawyers are urged to sign up immediately to ensure their chance at being among the first to test out the latest and greatest in legal tech.
To learn more about Velawsity's beta program or to apply to be one of the first to try out the latest in could technology, visit Velawsity.com or email info(at)velawsity(dot)com. For the latest in Velawsity news, follow the company on Twitter @VelawsityApp.